Anjwaal (Garhwali) Movie Details and Response
First time BoxOfficeCollection.in is reviewing any Garhwali film; because it happened first time that any Garhwali movie has released on multi screens country wide like other growing regional cinemas. This would be a great start…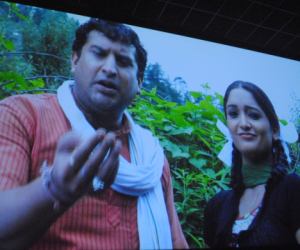 The latest Garhwali film
Anjwaal
has taken control over box office screens all over the dominated regions like Uttarakhand, Merrut, NCR and adjacent areas where Garhwali language is common. Audience has loved this gesture fully fledges with comedy, emotions and humor that it connected to every viewer. It hit the cinemas on
28 November 2014
 and in its first weekend of release, Anjwaal has done a good business with positive audience response for it. Not only the critics but the viewers have also reviewed the film with ultimate scores and feedback.
Anjwaal has brought along with some hit Garhwali actors Mukesh Sharma, Minni Uniyal and has been directed by Manish Varma. For the very first time a regional movie has been released all over India and that is why the state government of Uttarakhand has also exempted it from Entertainment Tax making it's per ticket cost lesser to promote more audience. Fame is being faced by the singers of this film namely Meena Rana, Nirendra Rajput, Manju Sundriyal, Santosh Khetwal, Mahendra Chauhan and Gajendra Rana and also the star cast who were honored by mayor of the city Dehradun at the time of premiere launch in Silver City Multiplex, Dehradun.
Anjwaal movie Business Report
Film released on various multiplexes and places considering it a regional language movie, still this Garhwali flick has put proud to the industry by doing effective and good business till now. Though the film is earning figures in thousands only but even then it is high time for any Garhwali film.
One can see high audience craze towards this film especially in the first week. Sticking to this point, where first day was mind blowing for Anjwaal; rest of the days in the later weekend also contributed well enough in making total income to stand at very high position than the rest of the Garhwali films. Anjwaal has shown very good performance arousing the name of Garhwali film industry along with the rest.