Avengers- Age of Ultron First Day Box Office Collection
Presented under the super hit Marvel Studios, the latest installment of The Avengers, is another Sci-Fi action super heroic movie that entered the Indian box office today with a big bang. It is sequel to the previous edition & we know that audience not only in abroad but also in India is crazy for this movie so this time also audience was seen today extremely excited to watch it. Today when the movie has got released in Indian theatres, audience heavy rush could be seen outside the multiplexes.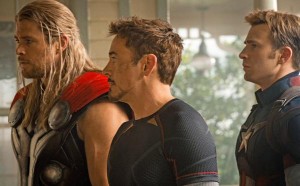 Movie made excellent business today and closed down at approx. 
10.98 crores
. There are lots of hints about the story from the official trailer launched on YouTube and all of them got hilarious reviews and feedback from the viewers. First day of the movie saw marvelous occupancy and public interest and it recorded a good income by the end of the opening day.
Read: Avengers Age of Ultron Audience Response on First Day in India
It is one of the most awaited Hollywood movies of this year given the popularity of the movie series and its production house. Generally if we look at the previous prequel of the movie, movie's box office collections then it might be extraordinary in India given the fact that there are no major movies in its competition- with only Dohchay, Jai Ho Democracy & Kaagaz Ke Fools.
Also we have seen huge response on first day, so it is expected that movie income can be better than its prequel. All over the world there are lots of super hero fans from young ones to the adults and people are very excited to finally see its sequel this year. It is still to see how the movie will span out and what would be the movie verdict in the first weekend.