After the 2 successful weeks, Hollywood biggie Avengers Infinity War is showing strong performance in the third week as well despite the new anticipated Hindi release Raazi. With a huge initial buzz and positive reviews, the American superhero film did the business of 203.94 crores, that included 156.64 crores of the first week and 47.30 crores of the second.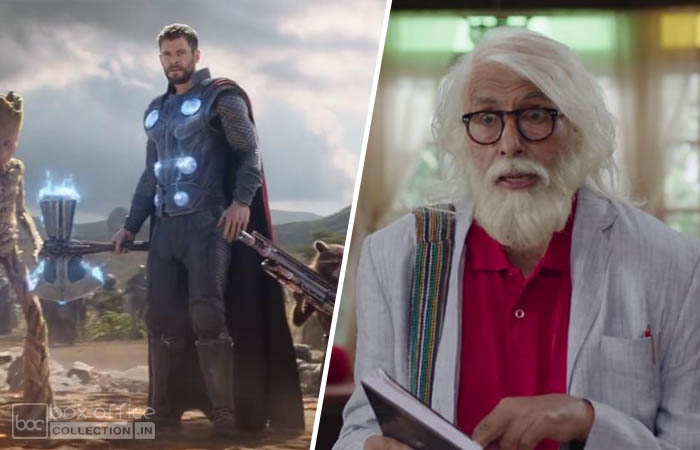 Then in the third weekend, on a strong note, the third installment of the franchise Avengers raked the business of 10 crores with 2.21 crores on 3rd Friday, 3.42 crores on 3rd Saturday & 4.37 crores on 3rd Sunday. Now Infinity War is running on weekdays once again and still has a good hold over the audience across India.
On 3rd Monday, Marvel Cinematic Universe' new presentation minted the amount of 1.65 crores, while 1.55 crores on 3rd Tuesday. On the next day i.e. 3rd Wednesday, Avengers Infinity War bagged 1.45 crore and raised its 20 days total collection to 218.59 crores nett (280.24 crores gross).
On the other hand, megastar Amitabh Bachchan and evergreen Rishi Kapoor starrer 102 Not Out is also heading smoothly in its second week despite having Alia Bhatt's Raazi in the opposite. After a good opening week, it entered on the second weekend at a solid pace and collected total 9.30 crores with 1.85 crores on 2nd Friday, 3.05 crores on 2nd Saturday, and 4.40 crores on 2nd Sunday.
Now Umesh Shukla's directorial is running on weekdays and still has enough hold over the audience. With small drop than 2nd Friday, it did the business of 1.25 crore on 2nd Monday and 1.26 crore on 2nd Tuesday. On the next day i.e. 2nd Wednesday, 102 Not Out garnered 1.20 crore and raised its 13 days total domestic collection to 40.71 crores including 27.70 crores of the first week.