S.S. Rajamouli's directorial magnum opus Baahubali is running successfully worldwide. The movie has minted around 450 crores at worldwide box office and domestic collection of the movie has become approx. 335 crores which are very massive figures. Baahubali has already become the highest grosser South Indian movie and highest grosser Hindi dubbed movie of all time in India. Also it is the second movie of India which has crossed the mark of 300 crores at domestic box office after Aamir Khan's PK.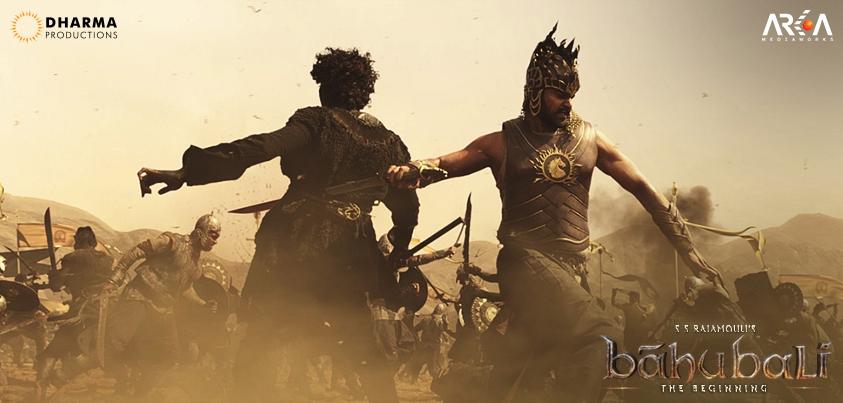 Baahubali is getting overwhelmed response worldwide especially in South Indian regions. Director S.S. Rajamouli is receiving huge appreciation for his wonderful direction in the movie. Baahubali's ensemble starcast that includes Prabhas Raju, Rana Daggubati, Anushka Shetty, Tamannaah Bhatia, Ramya Krishnan & etc. also getting praised for their performance. Baahubali is still having good hold on audience and movie forward with decent figures.
This India's biggest blockbuster was collected 46.77 crores in its first week and 26.38 crores in second week with its Hindi version only. Now it is running under its third week and its collection report till now is as follows- 3.10 crores on Friday, 4.35 crores on Saturday, 5.11 crores on Sunday, 3.05 crores on Monday and 2.60 crores on Tuesday. On its 20th day of release i.e. Wednesday, it has got slightly lower response than Tuesday and done the business of around 2.25 crores and made its total to 93.61 crores.
| Box Office | Collection (Hindi) |
| --- | --- |
| Day 1 | ₹5.15 Cr |
| Day 2 | ₹7.09 Cr |
| Day 3 | ₹10.11 Cr |
| Day 4 | ₹6.10 Cr |
| Day 5 | ₹6.15 Cr |
| Day 6 | ₹6.05 Cr |
| Day 7 | ₹6.12 Cr |
| Day 8 | ₹3.25 Cr |
| Day 9 | ₹4.70 Cr |
| Day 10 | ₹5.40 Cr |
| Day 11 | ₹3.82 Cr |
| Day 12 | ₹3.20 Cr |
| Day 13 | ₹3.05 Cr |
| Day 14 | ₹2.96 Cr |
| Day 15 | ₹3.10 Cr |
| Day 16 | ₹4.35 Cr |
| Day 17 | ₹5.11 Cr |
| Day 18 | ₹3.05 Cr |
| Day 19 | ₹2.60 Cr |
| Day 20 | ₹2.25 Cr |
| Day 21 | ₹2.15 Cr |
| Day 22 | ₹1.60 Cr |
| Day 23 | ₹2.70 Cr |
| Day 24 | ₹3.40 Cr |
| Day 25 | ₹1.20 Cr |
| Day 26 | ₹1.10 Cr |
| Day 27 | ₹1 Cr |
| Day 28 | ₹1.10 Cr |
| Day 29 | ₹0.84 Cr |
| Day 30 | ₹1.23 Cr |
| Day 31 | ₹1.63 Cr |
| Day 32 | ₹0.59 Cr |
| Day 33 | ₹0.60 Cr |
| Day 34 | ₹0.59 Cr |
| Day 35 | ₹0.61 Cr |
| Day 36 - Lifetime | ₹4.75 Cr |
| Total | ₹118.70 Cr |