Baby 15th Day Box Office Response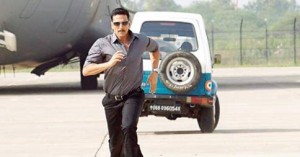 Enjoying the audience positive response from the past 2 weeks; Akshay Kumar starrer
Baby
has done very good collection in the 2nd week and has entered today in the third week. It is a very stupendous amount on totality in 2 weeks for any movie released in 2015. On the 3rd Friday, film has improved its collection due to start of the weekend how so ever there is now a big obstacle in the smooth way of Baby which is none other than the latest released films in different regions like
Baji
,
Yennai Arindhaal
&
Shamitabh
that also hit the box office today.
Flick has started the third Friday on a positive note. The occupancy in early shows is better than previous 2 days as they were business days. Now with a good second week collection, film has entered the third week with goods word of mouth and the target of running good this week is looking very much a possibility with average but almost good performance & response today.
Baby 3rd Friday Total Collection
As today the many other films have hit the box office so Baby is definitely going to face high competition from these films due to audience excitement and good promotion of these newly released movies in their regions. Still it has much audience who is interested in watching it along with their friends and families. This 3rd Friday has resulted in bit lesser profitable for Baby due to strong competition but still it has collected 1.31 Crore on its 15th day of release on the big screen.
We have presented you the 15th day earning report for the movie on its 3rd Friday. We will be keeping you updated with all the box office collection reports of Baby and other movies released.
Check: Baby 2 weeks total box office collection