Baby 16th Day Box Office Response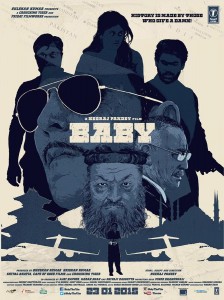 After running in around 1500+ screens in its second week at box office, Akshay Kumar recent hit Baby
has entered into its third week yesterday. With so fabulous figures attained in its first weekend then first week and then in the second week too, now the film has headed towards gaining more business in the third week. Today the film is facing its 16th working day on box office which is a compliment in itself. And in addition to it the audience interest for
Baby
has not slit much down as you could still see rush outside the theatres and shows in the cinema halls and multiplexes running good.
Film is now facing its third weekend and all set to make a high profit by the end of this weekend. Today being Saturday, the film experienced a positive approach from the audience. The movie saw fabulous growth everywhere right from single screens to high end multiplexes. The growth was simply noticeable today, but could be more if there were no elections in Delhi.
Baby 3rd Saturday Collection Report
Anyhow Baby has made a good attempt on its 16th day of release and the film closed down at 1.56 Crore. However this fact should also not be differentiated that film has now came to a little down level due to tough competition from the current released movie Shamitabh and also due to Delhi Elections.
As it is the latest film plus with superb star cast and promotion, so it is very obvious that Baby is going to face adverse affects from Shamitabh till its lifetime on the big screen. Film has much more to achieve in the coming days so we need to wait and watch performance of Baby in its third week.