Baby 18th Day Box Office Response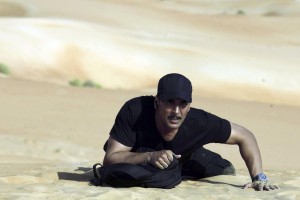 Baby in its third week is running with great box office response and has collected approx. 90 crores already. Directed by Neeraj Pandey, this action movie has released with great response and buzz & since its release it has been performing very well. Akshay Kumar and Anupam Kher who again came together in this film have been appreciated for their performance in the film. Audience has always loved these two stars together and we can see easily the nice chemistry and audience favorable response towards their latest movie too.
After beating his own biggie movie Holiday in its first week, now Baby has turned out to be a big hit of this year and collected many remarks in its name. Now if we talk about 18th day box office performance in short, then movie is running with gradual drop on box office but it collected good amount on box office still on third Monday.
Baby 3rd Monday Collection
Looking at the screen count as well as occupancy on 18th day, movie's box office collection today is around 0.65 crore. This Friday new film was released named Shamitabh and the movie has been doing good performance so this is bad news for Baby. Movie is looking good for making much more in whole third week till the new big release.
Next Friday another awaited romantic film of this year is releasing named Roy for which everyone is so excited, so obviously Baby is going to see a serious adverse effect from this upcoming Bollywood movie on Friday. Till now it is doing well and seems smooth on big screen in spite of the competition and new releases. Third week report will decide the fate of film finally.
Check: Baby 3rd Weekend Total Collection Report