Baby 1st Week Box Office Performance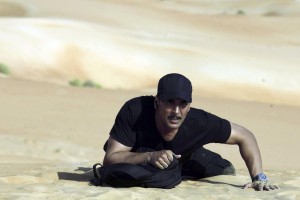 Akshay Kumar last week release
Baby
satisfied all the expectations of the audience and his fans. The movie was expected earlier to be stunningly hit and able to break the records set by his previous blockbuster as well as other
Bollywood
biggies which it did clearly. Film was being compared with Holiday which created phenomenal records on box office last year. But the resultant performance of Baby is far away cooler than it.
Film's script and presence of a well established star cast is being said as the main reason for Baby success to become a very impressive movie. However the film is gaining decent box office collections till now but everyone seems to compare it with other biggies; may by therefore it seems to lag behind the screens a bit off. Anyhow whole week has resulted far awesome all over the screens in India as well as overseas.
Baby One Week Total Business
As per early estimation the movie has shown further drop on its weekdays due to busy schedules and working time. As per audience craze for this film, this movie has been rocking and giving tough competition to the previous hits on box office as well as co release Dolly Ki Doli. Film finally cleared that the movie may cross over the more figures in coming weeks. Baby is to cross 100 Crores mark as a present target but is not estimated now to gross comparatively higher box office collections than blockbusters like Kick, HNY etc. total one week collection of film is 63.82 Crores* including its 7th day collection of 3.5 Crores in India.
Earning expectations automatically increases as screening on such no. of theaters is not small in fact it is large. Moreover, overseas Collection of Baby for 1st week is also decent enough. Film in first weekend earned high then dropped bit in weekdays ending its 1st week excellently. We can hope it to cope up with this alternate suffering of weekdays and manage to rise up again with better performance on box office in this coming weekend.
| Box Office | Collection (IND) |
| --- | --- |
| Day 1 (Fri) | 9.3 Cr |
| Day 2 (Sat) | 11.17 Cr |
| Day 3 (Sun) | 15.60 Cr |
| Day 4 (Mon) Republic Day | 14.90 Cr |
| Day 5 (Tue) | 5.10 Cr |
| Day 6 (Wed) | 4.25 Cr |
| Day 7 (Thu) | 3.50 Cr |
| Day 8 (Fri) | 2.85 Cr |
| Day 9 (Sat) | 3.99 Cr |
| Day 10 (Sun) | 5.81 Cr |
| Day 11 (Mon) | 2.20 Cr |
| Day 12 (Tue) | 1.92 Cr |
| Day 13 (Wed) | 1.94 Cr |
| Day 14 (Thu) | 1.87 Cr |
| Day 15 (Fri) | 1.31 Cr |
| Day 16 (Sat) | 1.56 Cr |
| Day 17 (Sun) | 1.87 Cr |
| Day 18 (Mon) | 0.65 Cr |
| Day 19 (Tue) | 0.60 Cr |
| Day 20 (Wed) | 0.55 Cr |
| Day 21 (Thu) | 0.55 Cr |
| Day 22 (Fri) | 0.54 Cr* |
| Day 23 (Sat) | 0.60 Cr* |
| Day 24 (Sun) | 0.55 Cr* |
| Day 25 (Mon) | 0.36 Cr* |
| Day 26 (Tue) | 0.33 Cr* |
| Day 27 (Wed) | 0.32 Cr* |
| Day 28 (Thu) | 0.30 Cr* |
| Day 29 - Lifetime | 1.07 Cr* |
| Total | 95.56 Cr* |