Salman Khan starrer recent movie Bajrangi Bhaijaan has completed its one month at box office. The movie was performed terrifically in its first 2 weeks and then after the release of new movie Drishyam, it started facing drops in its business but still the performance was good. In the journey of one month, Bajrangi Bhaijaan has done the business of over 315 crores at domestic box office and approx. 600 crores at worldwide box office including overseas collected of 175.53 crores and distribution shares.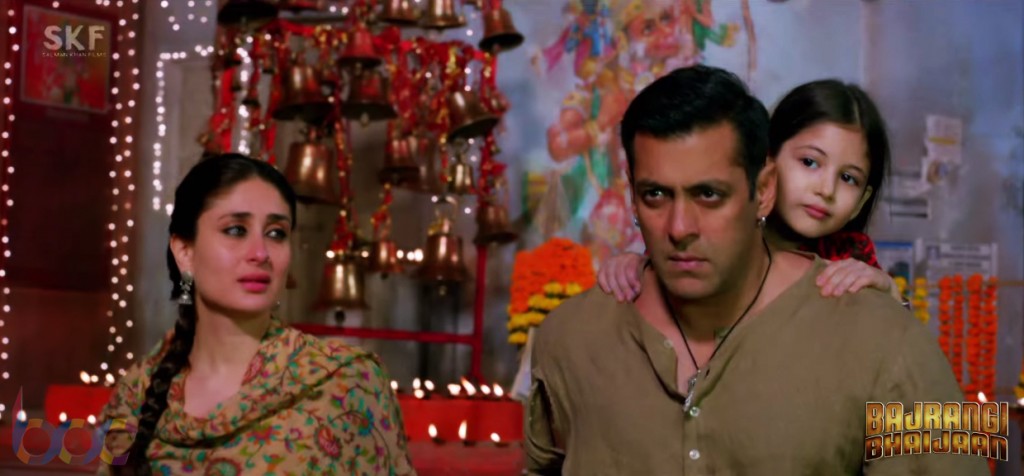 Till now, Bajrangi Bhaijaan has registered numbers of records to its account and still moving forward with small steps. It has become the fastest 100 crores & 500 crores grosser movie in the history of Bollywood and become the second highest grosser of all time after PK. Now the new release Brothers is impacting its business but still audience coming to watch it.
Everyone loved it very much and praised the performance of entire starcast, especially the little girl Harshaali Malhotra who has played the role of Munni. She has played her character brilliantly in the movie and stolen many hearts with her innocence. Salman Khan & Nawazuddin Siddiqui are at their best as always.
At the end of its 4th week, the total collection of Bajrangi Bhaijaan was 314.04 crores from Indian screens that includes 184.62 crores of first week, 87.63 crores of second week, 30.06 crores of third week and rest 11.73 crores of the fourth week. In its fifth weekend it collected 0.67 crore as its 29th day collection and 0.89 crore as its 30th day collection. Today was its 31st day and it has experienced higher response than yesterday; collected 1.07 crore and made its total to 316.67 crores.
| Box Office | Collection (India) |
| --- | --- |
| Day 1 | 27.25 Cr |
| Day 2 | 36.60 Cr |
| Day 3 | 38.75 Cr |
| Day 4 | 27.05 Cr |
| Day 5 | 21.40 Cr |
| Day 6 | 18.02 Cr |
| Day 7 | 15.55 Cr |
| Day 8 | 12.80 Cr |
| Day 9 | 19.25 Cr |
| Day 10 | 24.05 Cr |
| Day 11 | 9.30 Cr |
| Day 12 | 9.10 Cr |
| Day 13 | 7.10 Cr |
| Day 14 | 6.03 Cr |
| Day 15 | 4.11 Cr |
| Day 16 | 6.80 Cr |
| Day 17 | 9.07 Cr |
| Day 18 | 2.75 Cr |
| Day 19 | 2.63 Cr |
| Day 20 | 2.45 Cr |
| Day 21 | 2.25 Cr |
| Day 22 | 1.45 Cr |
| Day 23 | 2.73 Cr |
| Day 24 | 3.51 Cr |
| Day 25 | 1.15 Cr |
| Day 26 | 1.02 Cr |
| Day 27 | 0.96 Cr |
| Day 28 | 0.91 Cr |
| Day 29 | 0.67 Cr |
| Day 30 | 0.89 Cr |
| Day 31 | 1.07 Cr |
| Day 32 - Lifetime | 6.30 Cr |
| Total | 320.34 Cr |