Superstar Salman Khan starrer Bajrangi Bhaijaan is ruling on box office in India as well as it is getting wonderful response on overseas screens. This latest Hindi drama movie has become the third highest grosser movie of all time in Bollywood. It has minted total 259.12 crores in last 12 days from Indian and 128 crores at overseas box office, that means the worldwide collection of the movie in 12 days was 387.12 crores. Bajrangi Bhaijaan is now heading towards breaking the lifetime domestic collection of Dhoom 3 that was 284.27 crores.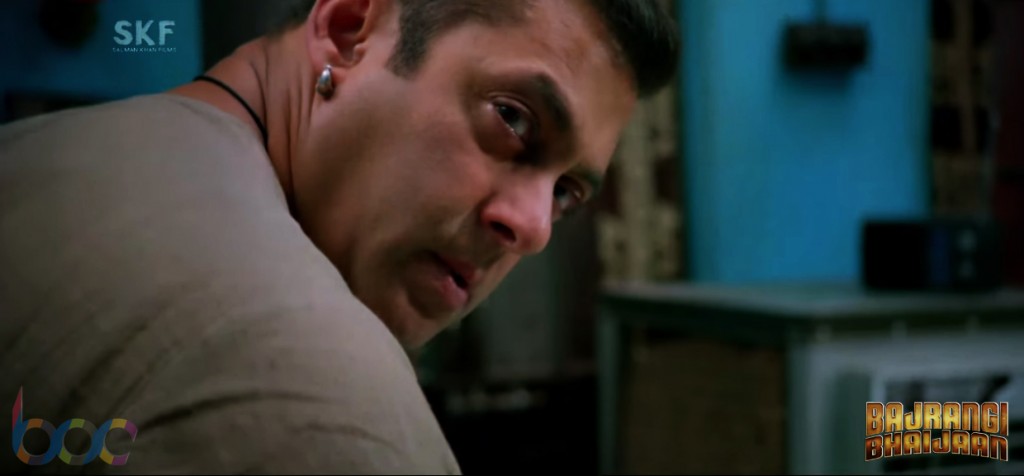 Bajrangi Bhaijaan is getting overwhelmed response in India as well as in overseas. The fans of Salman are creating huge positive buzz about the movie on social media which encouraging more audience to watch it. Still in its second week, the movie is getting very nice occupancy across the country. In Pakistan too, it is getting wonderful response as it is the most positive Indian movie about Pakistan based on peaceful concept.
In its first week, Bajrangi Bhaijaan was performed tremendously at Indian box office and minted total 184.62 crores. Now it is running in its second week and its business report till 12th day is as – 12.80 crores on Friday, 19.25 crores on Saturday, 24.05 crores on Sunday, 9.30 crores on Monday and 9.10 crores on Tuesday. As weekdays have started, movie is facing drops in its business. On Wednesday i.e. its 13th day, Bajrangi Bhaijaan recorded the collection of 7.10 crores with a drop of 20% than last day. With these figures the total 13 days collection of the movie has become 266.22 crores.
| Box Office | Collection (India) |
| --- | --- |
| Day 1 | 27.25 Cr |
| Day 2 | 36.60 Cr |
| Day 3 | 38.75 Cr |
| Day 4 | 27.05 Cr |
| Day 5 | 21.40 Cr |
| Day 6 | 18.02 Cr |
| Day 7 | 15.55 Cr |
| Day 8 | 12.80 Cr |
| Day 9 | 19.25 Cr |
| Day 10 | 24.05 Cr |
| Day 11 | 9.30 Cr |
| Day 12 | 9.10 Cr |
| Day 13 | 7.10 Cr |
| Day 14 | 6.03 Cr |
| Day 15 | 4.11 Cr |
| Day 16 | 6.80 Cr |
| Day 17 | 9.07 Cr |
| Day 18 | 2.75 Cr |
| Day 19 | 2.63 Cr |
| Day 20 | 2.45 Cr |
| Day 21 | 2.25 Cr |
| Day 22 | 1.45 Cr |
| Day 23 | 2.73 Cr |
| Day 24 | 3.51 Cr |
| Day 25 | 1.15 Cr |
| Day 26 | 1.02 Cr |
| Day 27 | 0.96 Cr |
| Day 28 | 0.91 Cr |
| Day 29 | 0.67 Cr |
| Day 30 | 0.89 Cr |
| Day 31 | 1.07 Cr |
| Day 32 - Lifetime | 6.30 Cr |
| Total | 320.34 Cr |