Bollywood biggest blockbuster of the year so far, Bajrangi Bhaijaan has completed one week at box office. As expected the movie has performed terrifically in its first week on Indian as well as on overseas screens. Audience liked the movie very much and everyone who watched it showing thumbs up to it. Director Kabir Khan receiving huge appreciation for his wonderful direction and for introducing the little girl Harshaali Malhotra in the movie. She has become favorite of all, with her innocence in the movie she is stealing everyone's hearts.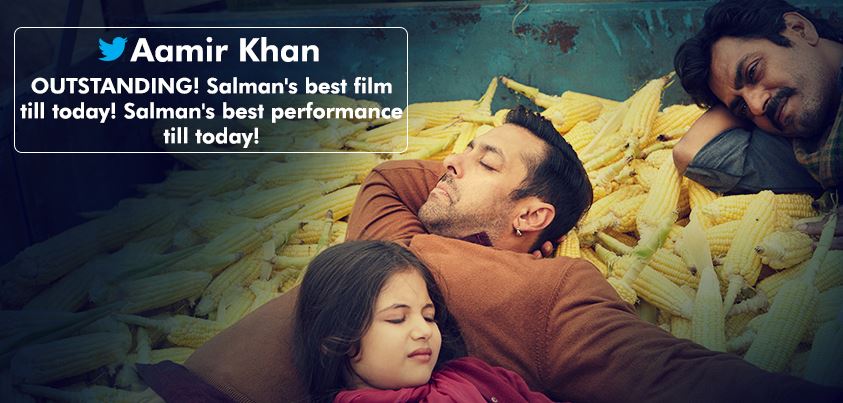 Bajrangi Bhaijaan is getting marvelous response from fans & Bollywood lovers across the country as well as outside. Till the end of its sixth day on box office, it has collected 169.07 crores from India and approx. 76 crores from overseas. It was already predicted to set fire on box office but it will come out in such great performance no one was expected. With its first week total collection, Bajrangi Bhaijaan has entered in top three highest opening week grosser Bollywood movies along with Dhoom 3 & PK.
Bajrangi Bhaijaan 7 Days Total Collection (Domestic)
Bajrangi Bhaijaan has started its journey at Indian box office with 27.25 crores as its first day collection. On next day, it was a occasion of Eid and the movie has showed incredible growth in its business; collected 36.60 crores as its second day collection. On Sunday, with a considerable rise it was added 38.75 crores in its account and ended it first weekend with total of 102.60 crores.
In weekdays as all movies faces drop in business, Bajrangi Bhaijaan was also expected to experience same. But the craze of fans and audience proved the fact wrong, on Monday the movie was collected 27.05 crores. On its fifth day i.e. Tuesday it has made 21.40 crores and Wednesday was came out with the amount of 18.02 crores. On the last of its first week, Bajrangi Bhaijaan has started with good excitement of audience and collected 15.55 crores as its seventh day collection. At the end of week, the total collection of the movie is 184.62 crores and it has become the second highest opening weekend grosser movie in Bollywood by dominating Aamir Khan's PK that was around 183.09 crores.