Salman Khan's much awaited of the year Bajrangi Bhaijaan is doing great at box office in India as well as in overseas. The movie has completed a week with total domestic collection of 184.62 crores and now running in its second week. It has already covered two days of its second week with excellent response as a new release. The excitement of audience towards the movie is not getting down, still it is having completed hold on audience and screens.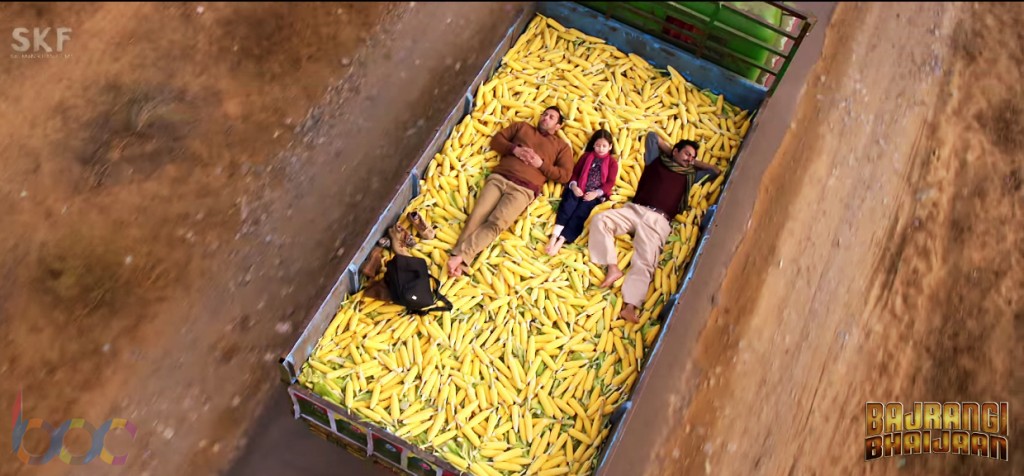 Especially Salman fans are creating huge buzz about the movie on social media which encouraging more audience to watch Bajrangi Bhaijaan. Not only in India but in Pakistan also, the movie is getting overwhelmed response from Bollywood lovers. The chairman of Pakistan censor board said "Bajrangi Bhaijaan is the most positive Indian movie about the Pakistan" that is the reason movie is getting so much love in the country.
Bajrangi Bhaijaan is a complete dose of romance, action, drama, emotion & comedy. The best thing about the movie is, it can be enjoyed by audience of all ages. Muslim fans of Salman are saying, nothing could be better than Bajrangi Bhaijaan on eid as a gift from Salman bhai for fans.
Bajrangi Bhaijaan Day Wise Collection Report
Bajrangi Bhaijaan completed the first week with total business of 184.62 crores from Indian screens and 83.29 crores from overseas screens. In its second week too the movie is performing like a new release, collected 12.80 crores on its 8th day i.e. the first day of its second week. From weekend the movie was expected to take and it resulted out in the same. On its 9th day Bajrangi Bhaijaan showed massive growth in its business and minted around 19.25 crores in India; made its total domestic collection to 216.67 crores.
| Box Office | Collection (India) |
| --- | --- |
| Day 1 | 27.25 Cr |
| Day 2 | 36.60 Cr |
| Day 3 | 38.75 Cr |
| Day 4 | 27.05 Cr |
| Day 5 | 21.40 Cr |
| Day 6 | 18.02 Cr |
| Day 7 | 15.55 Cr |
| Day 8 | 12.80 Cr |
| Day 9 | 19.25 Cr |
| Day 10 | 24.05 Cr |
| Day 11 | 9.30 Cr |
| Day 12 | 9.10 Cr |
| Day 13 | 7.10 Cr |
| Day 14 | 6.03 Cr |
| Day 15 | 4.11 Cr |
| Day 16 | 6.80 Cr |
| Day 17 | 9.07 Cr |
| Day 18 | 2.75 Cr |
| Day 19 | 2.63 Cr |
| Day 20 | 2.45 Cr |
| Day 21 | 2.25 Cr |
| Day 22 | 1.45 Cr |
| Day 23 | 2.73 Cr |
| Day 24 | 3.51 Cr |
| Day 25 | 1.15 Cr |
| Day 26 | 1.02 Cr |
| Day 27 | 0.96 Cr |
| Day 28 | 0.91 Cr |
| Day 29 | 0.67 Cr |
| Day 30 | 0.89 Cr |
| Day 31 | 1.07 Cr |
| Day 32 - Lifetime | 6.30 Cr |
| Total | 320.34 Cr |