Salman Khan starrer year's biggest blockbuster Hindi movie Bajrangi Bhaijaan has completed its 6 weeks journey at box office. It has done the business of total 319.62 crores till the end of its 6th week from Indian screens. Everyone loved the movie and the performance of entire star cast very much. It has recieved overwhelmed response from audience across the globe. Now the movie has almost done but the performance it showed in its early weeks was phenomenal. At worldwide box office, it has crossed the mark of 600 crores including distribution shares.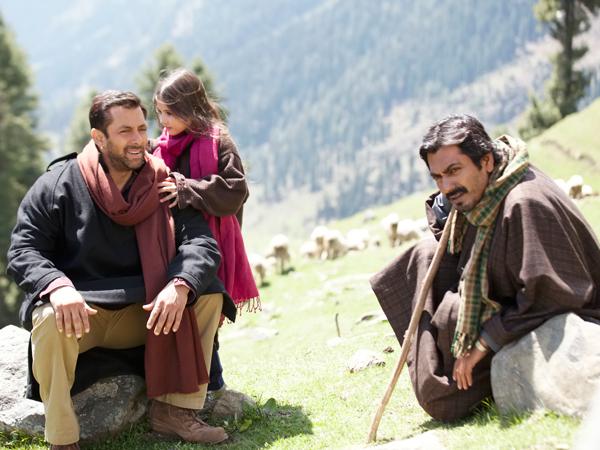 In its lifetime it has registered number of records to its account and has become the second highest grosser of all time in Bollywood after Aamir Khan's PK. Bajrangi Bhaijaan is now the most successful movie of Salman's career. Along with Salman; Kareena Kapoor Khan, Nawazuddin Siddiqui & little diva Harshaali Malhotra are also there and performed their characters brilliantly. Chairman of Pakistan censor board said, that Bajrangi Bhaijaan is the most positive Indian movie about our country Pakistan. And that is the main reason behind such wonderful performance of movie in Pakistan too.
In its first week, Bajrangi Bhaijaan was done the business of total 184.62 crores that was included 102.60 crores of weekend and rest 82.02 crores of weekdays. In its second week, it was maintained the pace and collected 87.63 crores as week total. In its third week too, movie performed very well and managed to collect 30.06 crores. From its fourth week, the Ajay Devgn starrer Drishyam was pushed it down to second position and the business it made was 11.73 crores. Then from the fifth week, Akshay Kumar starrer Brothers was released out, which dominated all running movies. Bajrangi Bhaijaan was done the business of 4.02 crores as its 5th week total. From its 6th week, it was left with 20% of screens but still it made 1.56 crore at box office.
| Box Office | Collection (India) |
| --- | --- |
| Day 1 | 27.25 Cr |
| Day 2 | 36.60 Cr |
| Day 3 | 38.75 Cr |
| Day 4 | 27.05 Cr |
| Day 5 | 21.40 Cr |
| Day 6 | 18.02 Cr |
| Day 7 | 15.55 Cr |
| Day 8 | 12.80 Cr |
| Day 9 | 19.25 Cr |
| Day 10 | 24.05 Cr |
| Day 11 | 9.30 Cr |
| Day 12 | 9.10 Cr |
| Day 13 | 7.10 Cr |
| Day 14 | 6.03 Cr |
| Day 15 | 4.11 Cr |
| Day 16 | 6.80 Cr |
| Day 17 | 9.07 Cr |
| Day 18 | 2.75 Cr |
| Day 19 | 2.63 Cr |
| Day 20 | 2.45 Cr |
| Day 21 | 2.25 Cr |
| Day 22 | 1.45 Cr |
| Day 23 | 2.73 Cr |
| Day 24 | 3.51 Cr |
| Day 25 | 1.15 Cr |
| Day 26 | 1.02 Cr |
| Day 27 | 0.96 Cr |
| Day 28 | 0.91 Cr |
| Day 29 | 0.67 Cr |
| Day 30 | 0.89 Cr |
| Day 31 | 1.07 Cr |
| Day 32 - Lifetime | 6.30 Cr |
| Total | 320.34 Cr |