6 Weeks Total Collection of SRK's Raees and Hrithik's Kaabil
The first big battle of Bollywood that was started a day before Republic Day, Raees Vs Kaabil has now completely settled down. Both the movies have lost all their hold over audience, due to new releases. Although both have performed well on box office but with higher business, SRK's Raees has come out as the winner of this battle in India as well as overseas.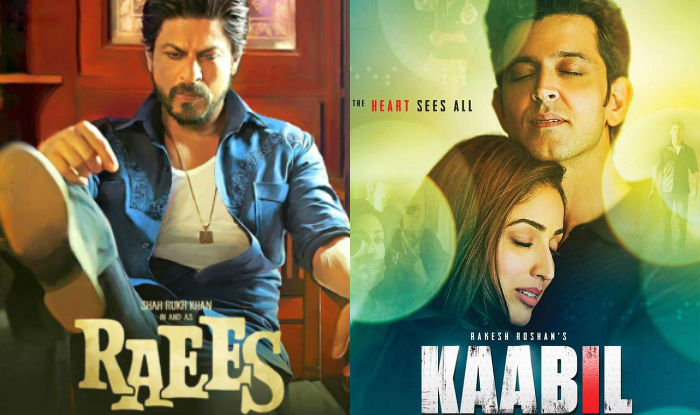 In the 9-days extended first week, Red Chilies & Excel Entertainment's Raees reported the business of 118.36 crores (Wed-Sun 93.24 crores & Mon-Thu 25.12 crores) on a strong note from 2700 screens, while on the other hand Filmkraft Films' Kaabil did the business of 82.18 crores (Wed-Sun 67.46 crores & Mon-Thu 14.72 crores) from 2200 screens.
After that both witnessed massive drop in their business but Kaabil showed comparatively better performance. In the second week, Raees collected the amount of 16.40 crores (Fri-Sun 11.55 crores & Mon-Thu 4.85 crores) and Kaabil minted slightly higher amount of 17.09 crores (Fri-Sun 11.71 crores & Mon-Thu 5.38 crores).
Due to new highly awaited movie Akshay Kumar's Jolly LLB 2, both have witnessed more drop in the third week. On a low note, director Rahul Dholakia's Raees raked the business of only 2.50 crores (Fri-Sun 1.65 crore & Mon-Thu 0.85 crore). While Sanjay Gupta's directorial Kaabil scored the amount of 3.90 crores (Fri-Sun 2.65 crore & Mon-Thu 1.25 crore).
In the fourth week, Raees and Kaabil showed very low performance and garnered the business of 0.17 crore and 0.48 crore respectively. With further declination in fifth week, both added the amount of 0.05 crore and 0.12 crore respectively to their account, opposite to fresh release Rangoon.
Then in the sixth week, both Shahrukh & Hrithik starrer covered the days on a silent note and somehow managed to increase their business total by 0.02 crore & 0.05 crore respectively. After 6 weeks, total domestic collection of Raees & Kaabil was recorded as 137.50 crores and 103.82 crores respectively.
| Box Office | Raees | Kaabil |
| --- | --- | --- |
| Day-Wise | Click Here | Click Here |
| Day 1 | ₹20.42 Cr | ₹10.43 Cr |
| Weekend 1 | ₹93.24 Cr | ₹67.46 Cr |
| Week 1 | ₹118.36 Cr | ₹82.18 Cr |
| Week 2 | ₹16.40 Cr | ₹17.09 Cr |
| Week 3 | ₹2.50 Cr | ₹3.90 Cr |
| Week 4 | ₹0.17 Cr | ₹0.48 Cr |
| Week 5 | ₹0.05 Cr | ₹0.12 Cr |
| Week 6 | ₹0.02 Cr | ₹0.05 Cr |
| Week 7 | ₹0.01 Cr | ₹0.02 Cr |
| Total | ₹137.51 Cr | ₹103.84 Cr |