Daawat-e-Ishq Opening Day Expected Performance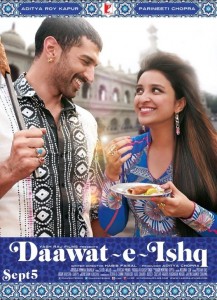 Featuring Parineeti Chopra, Aditya Roy Kapoor, Anupam Kher and Karan Wahi in the main lead roles, the upcoming Bollywood movie Daawat-e-Ishq is all set to enter the box office race tomorrow on 19 September as per the scheduled date of release. Daawat-e-Ishq is a romantic comedy along with connection to social issue of dowry picturized in a humored way. Story of the film is not yet revealed to maintain the audience interest and suspense, but it is purely a comedy drama. Directed by Faisal, the unique title and hit star cast is waiting for just one day gap to entertain the public and get their positive response. Daawat-e-Ishq is a light hearted movie suitable to be watched by all age group audience which makes it more watchable there are many rumors about the film regarding its exact story but whatever it is, both these talented faces are once again being awaited by the public excitedly increasing the opening day positive performance.
Daawat-e-Ishq First Day Collection Prediction
Many critics and analysts have reviewed the film and they say that Daawat-e-Ishq is one of those films which get good audience response and reviews but are not among the biggies or blockbusters. This film is expected to get a positive and decent response but expecting a blockbuster performance from Daawat-e-Ishq will be improper before seeing the actual audience response and views regarding the film. However expectations are good form the film and much among the critics and audience are estimating this film to get a good opening on box office. Expected First Day Collection of Daawat-e-Ishq around 8-8.5 Crores. Film will hit screens tomorrow and audience favorable pre release response indicates a decent opening for the film.