Detective Byomkesh Bakshy First Day Business Report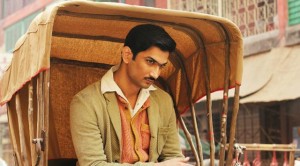 Fully fledged with suspense and thriller; the awaited Bollywood
film
Detective Byomkesh Bakshy
is in the theatres now. This film released today at box office on 3 April 2015 as per the scheduled date. Talking about the box office report of the film on the basis of its first day performance and pre release reviews etc, then the film seems very interesting and appealing to the viewers.
Where Fast & Furious 7 was supported by the Hollywood movie fans, Detective Byomkesh Bakshy seemed the favorable attitude of Indian cinema audience. The film today did good job and made decent income out of the pockets. Overall report shows that the film has been appreciated by the viewers quite a lot and that they are interested in watching it.
DBB First Day Box Office Collection
The story is quite unpredictable due to the title being the base of the whole story and hence much surprising elements in the film. Hence in addition to all that it presents a good picture of whole real life story of magnificent comic character Detective Byomkesh Bakshy. On its opening day the film done a satisfactory business in comparison to the expected performance by the critics and audience as well earning 4.2 crores.
First day favorable audience response and reviews have brought decent total opening day income to the film. The figure is not too high or low but it is capable of raking much more and it is expected to achieve this in the coming days of the weekend. One thing that is coming out as a big trouble for it is the presence of the Hollywood biggie on screens which is defecting the audience from its shows.