Dil Dhadakne Do, four weeks ago released Indian drama movie starring Priyanka Chopra, Ranveer Singh, Anushka Sharma, Rahul Bose, Anil Kapoor, Farhan Akhtar & Shefali Shah in lead roles. The movie was performed good in its first week without any interruption, in its second week movie faced little bit difficulty due to the release of Hamari Adhuri Kahani but still managed to collect good figures. From its third week, it has started losing its pace and faced high drop in income.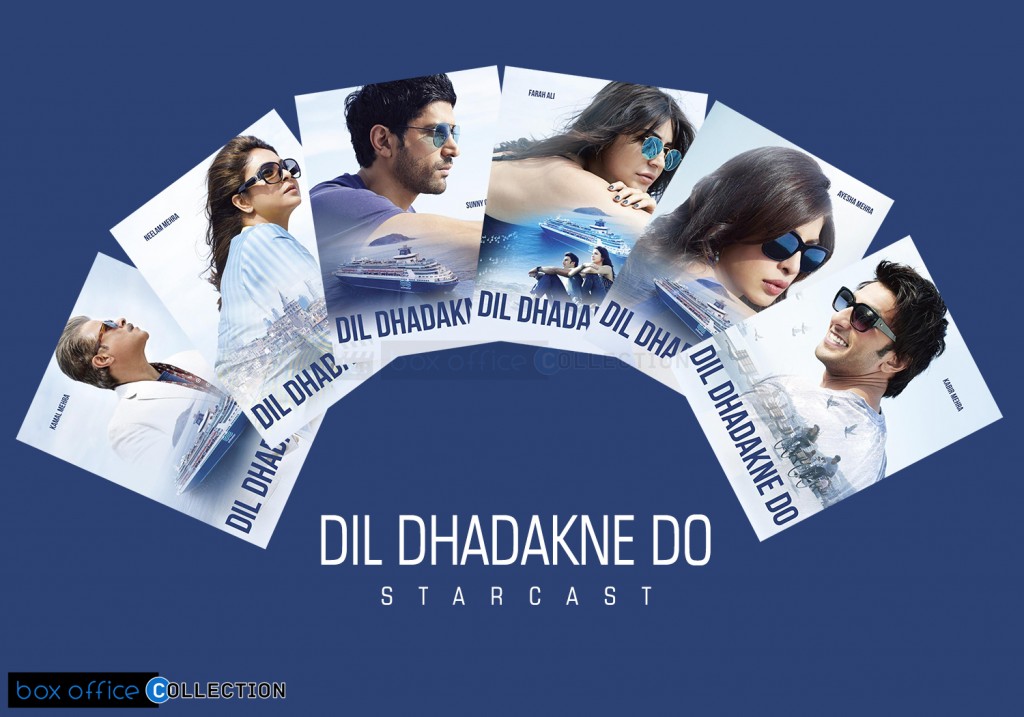 Audience enjoyed the movie and also appreciated entire cast for their mind blowing performance in the movie. As per earlier expectations the movie was not looking to perform this much at box office but Dil Dhadakne Do proved it as a successful movie of year 2015. The movie has grossed total 76.88 crores in its four weeks journey at box office from Indian screens. On overseas screens it has minted decent amount of approx. 38 crores and made its total worldwide collection approx. 114.88 crores.
India Report
In its first week it has made 56.10 crores and by continuing its pace to next week collected 15.43 crores as its second week collection. From its third week movie faced high drop and made only 3.85 crores. With countinuos drop in income, ended its fourth week with only 1.50 crore. Till the end of its fourth week the total collection of the movie from Indian screens has become 76.88 crores.
| Box Office | Collection (India Biz.) |
| --- | --- |
| Day 1 | 10.53 Cr |
| Day 2 | 12.27 Cr |
| Day 3 | 14.25 Cr |
| Day 4 | 5.77 Cr |
| Day 5 | 5.09 Cr |
| Day 6 | 4.48 Cr |
| Day 7 | 3.71 Cr |
| Day 8 | 2.27 Cr |
| Day 9 | 3.53 Cr |
| Day 10 | 4.27 Cr |
| Day 11 | 1.51 Cr |
| Day 12 | 1.45 Cr |
| Day 13 | 1.30 Cr |
| Day 14 | 1.19 Cr |
| Day 15 | 0.60 Cr |
| Day 16 | 0.89 Cr |
| Day 17 | 1.02 Cr |
| Day 18 | 0.33 Cr |
| Day 19 | 0.32 Cr |
| Day 20 | 0.30 Cr |
| Day 21 | 0.30 Cr |
| Day 22 | 0.21 Cr |
| Day 23 | 0.34 Cr |
| Day 24 | 0.45 Cr |
| Day 25 | 13.5 lacs |
| Day 26 | 13 lacs |
| Day 27 | 11.5 lacs |
| Day 28 | 12 lacs |
| Total | 76.88 Cr* |