'Dilwale' surpassed by 'Bajirao Mastani'
Around 3 weeks before we experienced one of the most hyped and awaited battle between the two films namely 'Dilwale' and 'Bajirao Mastani' which both released on same day. Both the films were high on audience expectations but Dilwale was expected to be the winner of this battle, which hasn't actually happened. Shahrukh Khan-Kajol-Varun Dhawan-Kriti Sanon starrer Dilwale and Ranveer Singh-Deepika Padukone-Priyanka Chopra starrer Bajirao Mastani have finished their third weekend at the box office.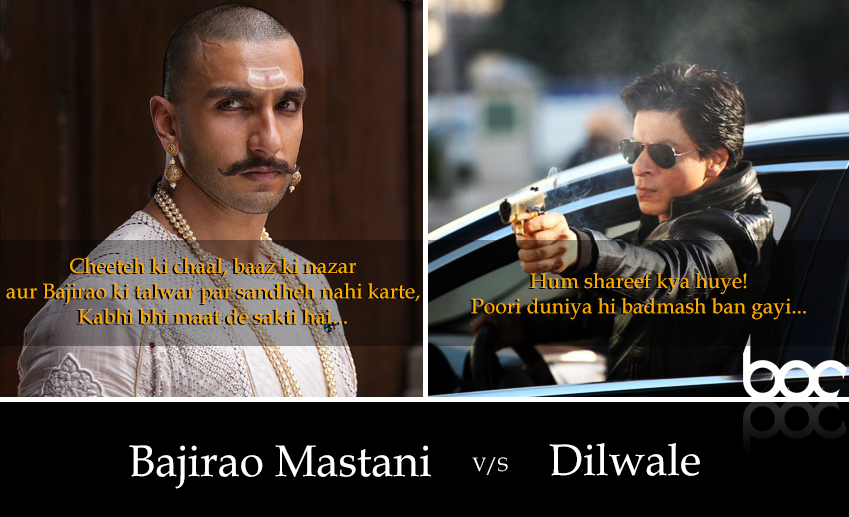 On the third weekend, Dilwale has collected lesser than Bajirao Mastani and is also behind in the total race by a close margin. Dilwale that started off brilliantly in first weekend could not keep hold on the box office for second and now beginning of third weekend. Bajirao Mastani's collections have improved a lot in second as well as third weekend.
If we talk about both films from collection point of view then shockingly Dilwale is surpassed by Bajirao Mastani. As total box office collection of Bajirao Mastani is more than Dilwale collection till date so it is clear that it is the leading one among the two. Slow & steady wins the race, Bajirao Mastani has proved this. The magnum opus Bajirao Mastani has dominated the biggie Dilwale on Indian box office.
Dilwale started on an excellent note due to pre-release hype but later Bajirao Mastani diverted major portion of audience toward itself. Talking about only the collection in India the figures are near but still Bajirao Mastani is leading the score board as follows:
| Box Office | Dilwale | Bajirao Mastani |
| --- | --- | --- |
| Day 1 | 21 Cr | 12.80 Cr |
| Day 2 | 20.09 Cr | 15.52 Cr |
| Day 3 | 24 Cr | 18.45 Cr |
| Day 4 | 10.09 Cr | 10.25 Cr |
| Day 5 | 9.42 Cr | 9.40 Cr |
| Day 6 | 8.79 Cr | 9.21 Cr |
| Day 7 | 9.26 Cr | 10.52 Cr |
| Day 8 | 8.11 Cr | 12.25 Cr |
| Day 9 | 6 Cr | 10.30 Cr |
| Day 10 | 7.12 Cr | 11.75 Cr |
| Day 11 | 2.70 Cr | 5.60 Cr |
| Day 12 | 3.12 Cr | 5.40 Cr |
| Day 13 | 3.13 Cr | 5.05 Cr |
| Day 14 | 2.38 Cr | 5.35 Cr |
| Day 15 | 3.41 Cr | 7.50 Cr |
| Day 16 | 1.90 Cr | 6 Cr |
| Day 17 | 2.40 Cr | 7 Cr |
| Day 18 | 1.13 Cr | 2.30 Cr |
| Day 19 | 1.02 Cr | 2.20 Cr |
| Day 20 | 0.83 Cr | 2.05 Cr |
| Day 21 | 0.78 Cr | 2 Cr |
| Day 22 | 0.41 Cr* | 1.40 Cr |
| Day 23 | 0.45 Cr* | 2.35 Cr |
| Day 24 | 0.48 Cr* | 2.70 Cr |
| Day 25 | 0.20 Cr* | 0.98 Cr |
| Day 26 | 0.17 Cr* | 0.95 Cr |
| Day 27 | 0.15 Cr* | 0.77 Cr |
| Day 28 | 0.18 Cr* | 0.96 Cr |
| Day 29 | - | 0.80 Cr |
| Day 30 | - | 1.05 Cr |
| Day 31 | - | 1.30 Cr |
| Day 32 - Lifetime | - | - |
| Total | 148.72 Cr* | 184.16 Cr* |