Audience has Divided between Dilwale and Bajirao Mastani
This last month of December seems to be very confusing and a big clash between not only the movies but also the audience. The two upcoming biggies of Bollywood film industry namely – Dilwale and Bajirao Mastani are both going to hit the silver screens on the same day. This has led to an atmosphere of great buzz and hypes as which film is going to get more response and love from the audience.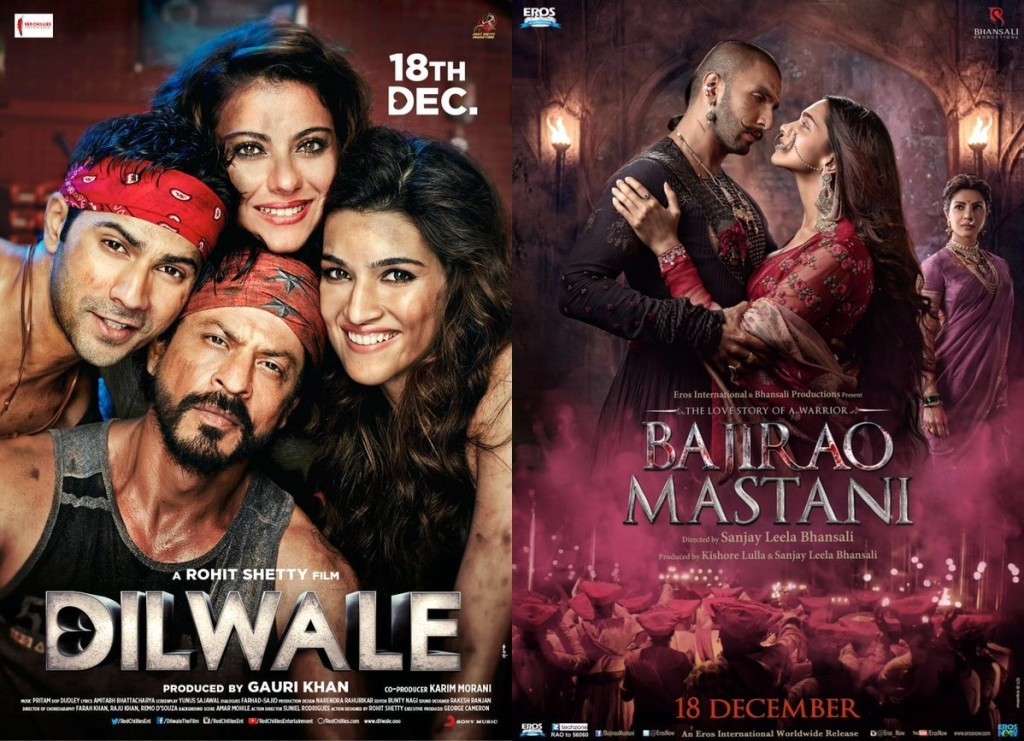 Talking about both the films one by one taking Dilwale first, then we come to see that Dilwale has got the ultimate magical chemistry of SRK and Kajol after such a long time along with new pair of Varun Dhawan and Kriti Sanon. Film has got drama, emotions, romance and great action but what makes its chances of performing high are the SRK fans. Yes, it seems that the only biggest reason that would be responsible for great performance of Dilwale would be SRK fans who will opt to watch his movie over Bajirao Mastani.
On the other side, taking Bajirao Mastani in discussion, then the film along with good and popular star cast of Ranveer Singh, Deepika Padukone and Priyanka Chopra; has got the real performing cast which is famous and loved for their good acting skills. This movie has not only got the star power though lesser than Dilwale, good performance visible through the trailers, nice music and great story; it has a nice script and serious characters too. Hence except the SRK fans, other among the audience are expected to go for Bajirao Mastani shows.
Basically, audience right now is quite confused between the two choices as to go for star power or performance. It seems like we are going to witness live proof of the two factors and their effects on the performance of both the movies. Where the SRK fans never miss any movie of their hero will surely make possible efforts to make Dilwale perform better; rest of the audience might be going for the real performances in Bajirao Mastani.
For now, the audience seems divided between these two factors and results will only be revealed when the two biggies actually clashes on screens this December.