Baby 2 Weeks Collection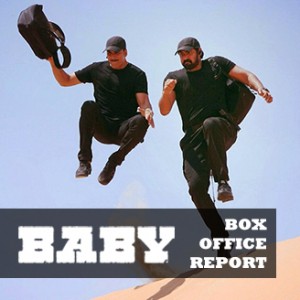 It seems that the Khiladi Kumar magic has worked again for his latest action blaster film Baby
that hit the theatres 2 weeks before. The sizzling serious action performance of Akshay Kumar is one of the reasons why the film is going strong at the box office. In its total 14 days journey on box office, flick has performed better in the north India region especially in places such as Delhi and Punjab. According to stats, Baby stands at the highest grosser of the month & big hits of Akshay himself.
It seems that the trend in our Bollywood cinema is developing day by day as every 2 or 3 month or so, we come to be entertained with a new record breaker. Being a fully action entertainer, Baby has kept its reputation very well and managed to collect overall 14th day income of around 1.87 crore. Now with the end of today, Total 2 weeks collection in India is approx. 84.40 crores.
Dolly Ki Doli 14 Days Collection
Dolly Ki Doli movie has completed its second week on box office. Moreover, till now total business done by Film is touted to be decent but the film in actual has not been able to rake any high amount. Each day performance till now is good but not outstanding. By today, film completed its 2 weeks collection on 22.03 crores* including the 14th day income of around 0.17 crore*.
Although Dolly Ki Doli is getting mixed response from audience as some people are saying that they enjoyed the movie very much especially families, on the other hand, movie is receiving negative reviews too by youth. All this has resulted in neither fantastic nor too poor income for this film till the end of 2 weeks in spite of big competitor like Baby.