Latest thriller movie of Bollywood, Drishyam has completed its journey of 2 weeks at box office with good business figures. In its first week it did not performed 100% due to Bajrangi Bhaijaan but in its second week Drishyam successfully attained its pace. In the second week, it has minted the total of 17.89 crores which is highest among all running movies.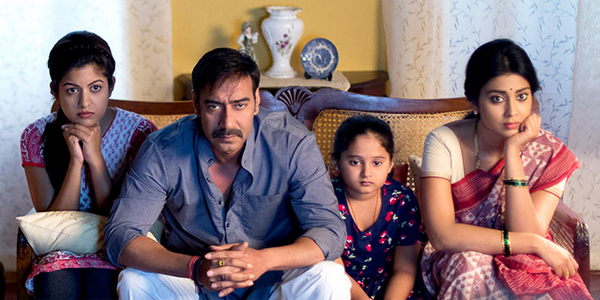 Drishyam is the remake of Malayalam movie that was released in 2013, due to this it was not having much hype before its release. But after watching the movie, everyone find it very interesting and created huge buzz on social media about it. Positive reviews from audience as well as from critics, encouraged more audience to watch it. In its second week Drishyam received good benefit of positive word of mouth and failure of last Friday released Bangistan at box office.
As it is featuring the superstar Ajay Devgn, so fans were very much excited for his movie. Ajay has performed superbly and everyone praising his work. The female leads Tabu & Shriya Saran have also played their characters very well. Director Nishikant Kamat is also receiving huge appreciation from critics for his efforts in making this movie.
Drishyam was done the business of 46.28 crores in its first week. Then in its second week it collected 11.84 crores as its second weekend total collection that includes 2.75 crores of Friday, 4.05 crores of Saturday and 5.04 crores of Sunday. From Monday the movie was entered in weekdays and started facing considerable drops in its business.
On Monday it was made 1.60 crores as its 11th day collection and 1.65 crores on Tuesday as its 12th day collection. Then on Wednesday, Drishyam experienced little bit more drop and collected 1.50 crores. On the last of its second week i.e. on Thursday, it has reported slightly lower occupancy and done the business of 1.30 crore. Till the end of the day, total 2 weeks collection of the movie is recorded as 64.17 crores.
From today the new and much awaited action drama movie Brothers of superstar Akshay Kumar is releasing, so now it will become very difficult for previous releases to survive at box office. Till yet what reports are reflecting is, that the new release Brothers will wash out all its competitors. Let see what will be the exact situation of box office after a day.