Ajay Devgn, Tabu & Shriya Saran starrer thriller movie Drishyam has completed its three weeks journey at box office and minted approx. 70 crores as domestic total. In its third week the performance of the movie was recorded very low but in its first two weeks it performed very well. Drishyam is a remake of Malayalam movie with the same title and already made in various languages. Due to this, the craze of audience on its first day was down but after watching the movie, everyone found it mind blowing and very interesting. Super positive response of audience had created favorable environment for the movie at box office which resulted in good business figures in first week.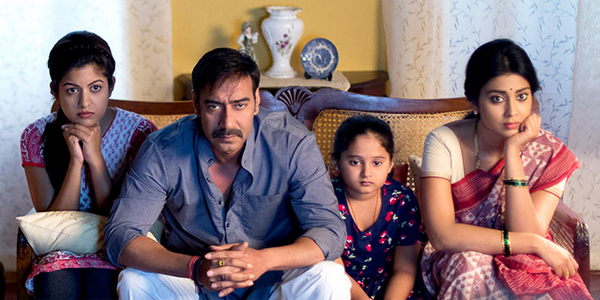 In the second week, Drishyam received complete advantage of Bangistan's failure at box office and being only good option to watch it was minted the highest amount of the week among all running movies. In its first week, Bajrangi Bhaijaan hampered its business, but in the second week it was leading over Bajrangi Bhaijaan. From its third week, due to release of Akshay Kumar starrer Brothers, is was shifted down to second position and collected approx. 7 crores.
It was done the business of total 64.17 crores in two weeks that was included 46.28 crores of first week and 17.89 crores of the second week. In its third weekend it was collected total 4.50 crores that includes 0.85 crore of Friday, 1.90 crore of Saturday and 1.75 crore of Sunday. Till the end of its third weekend, the total collection of it was 68.67 crores.
From Monday, Drishyam was entered in weekdays and again started facing drop in its business. It was done the business of around 0.81 crore* as its 18th day collection. On Tuesday it was collected 0.77 crore* as its 19th day collection and 0.75 crore* on Wednesday. On the last day of week, its collection has been recorded as 0.72 crore*. Till the end of its third week, the total collection of Drishyam has become 71.72 crores* at Indian box office.
| Box Office | Collection (India) |
| --- | --- |
| Day 1 | 8.50 Cr |
| Day 2 | 9.40 Cr |
| Day 3 | 12.13 Cr |
| Day 4 | 4.05 Cr |
| Day 5 | 4.50 Cr |
| Day 6 | 4.10 Cr |
| Day 7 | 3.60 Cr |
| Day 8 | 2.75 Cr |
| Day 9 | 4.05 Cr |
| Day 10 | 5.04 Cr |
| Day 11 | 1.60 Cr |
| Day 12 | 1.65 Cr |
| Day 13 | 1.50 Cr |
| Day 14 | 1.30 Cr |
| Day 15 | 0.85 Cr |
| Day 16 | 1.90 Cr |
| Day 17 | 1.75 Cr |
| Day 18 | 0.81 Cr |
| Day 19 | 0.77 Cr |
| Day 20 | 0.75 Cr |
| Day 21 | 0.72 Cr |
| Day 22 | 0.58 Cr |
| Day 23 | 0.72 Cr |
| Day 24 | 0.80 Cr |
| Day 25 | 0.32 Cr* |
| Day 26 | 0.25 Cr* |
| Day 27 | 0.24 Cr* |
| Day 28 | 0.24 Cr* |
| Day 29 | 0.20 Cr* |
| Day 30 | 0.34 Cr* |
| Day 31 | 0.30 Cr* |
| Day 32- Lifetime | 0.45 Cr* |
| Total | 76.16 Cr |