Nishikant Kamat directorial latest thriller Hindi movie Drishyam has already completed its 2 weeks journey at box office and now running in its third week. It was performed very well in its first 2 weeks but now facing problem due to the new release Brothers which is heading excellently. Drishyam is an official remake of 2013's released Malayalam movie with the same title, features the very talented superstar Ajay Devgn, Tabu and Shriya Saran in lead roles.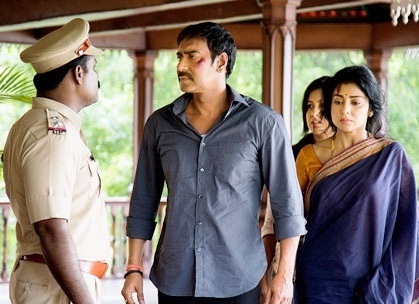 Drishyam was released on 31st July at box office among good excitement of audience. Due to low star ratings of some critics it was recorded average occupancy on its first day but after the positive response of audience, movie retained all its pace back and started hailing. The story of the movie is very gripping with great suspense, that is the reason everyone who watched has liked it very much. Entire star cast has performed their characters very well, especially Ajay Devgn and Tabu.
In its journey of two weeks, Drishyam was done the business of total 64.17 crores at Indian box office that includes 46.28 crores of first week and 17.89 crores of the second week. Now it has entered in its third week and on the 15th day, it has collected the amount of 0.85 crore. On Saturday, being holiday it was experienced good jump in its business and collected 1.90 crore. On the main day of its third weekend, the movie has recorded slightly lower response than Saturday and minted 1.75 crore. At the end of the weekend, total 17 days collection of Drishyam has become 68.67 crores.
| Box Office | Collection (India) |
| --- | --- |
| Day 1 | 8.50 Cr |
| Day 2 | 9.40 Cr |
| Day 3 | 12.13 Cr |
| Day 4 | 4.05 Cr |
| Day 5 | 4.50 Cr |
| Day 6 | 4.10 Cr |
| Day 7 | 3.60 Cr |
| Day 8 | 2.75 Cr |
| Day 9 | 4.05 Cr |
| Day 10 | 5.04 Cr |
| Day 11 | 1.60 Cr |
| Day 12 | 1.65 Cr |
| Day 13 | 1.50 Cr |
| Day 14 | 1.30 Cr |
| Day 15 | 0.85 Cr |
| Day 16 | 1.90 Cr |
| Day 17 | 1.75 Cr |
| Day 18 | 0.81 Cr |
| Day 19 | 0.77 Cr |
| Day 20 | 0.75 Cr |
| Day 21 | 0.72 Cr |
| Day 22 | 0.58 Cr |
| Day 23 | 0.72 Cr |
| Day 24 | 0.80 Cr |
| Day 25 | 0.32 Cr* |
| Day 26 | 0.25 Cr* |
| Day 27 | 0.24 Cr* |
| Day 28 | 0.24 Cr* |
| Day 29 | 0.20 Cr* |
| Day 30 | 0.34 Cr* |
| Day 31 | 0.30 Cr* |
| Day 32- Lifetime | 0.45 Cr* |
| Total | 76.16 Cr |