Nishikant Kamat directorial last week released movie Drishyam has completed its one week at box office with total business of 42. crores. It was released on average number of screens and also was not able to perform properly because of already ruling movies Baahubali and Bajrangi Bhaijaan. Before the release, there was not much hype about the movie as the movie is the remake of Malayalam movie which was already made in various languages. But after release, everyone found it very interesting and entertaining. The gripping story of Drishyam and the wonderful performance of its cast especially Ajay Devgn & Tabu, have made audience to applause for it.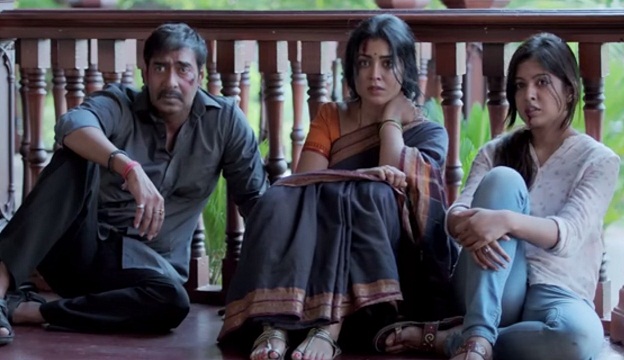 Bollywood critics & fans of Ajay have created positive environment for the movie, which is encouraging more audience to watch the movie. This is the reason, that made it to gross reputed figure as total in its first week. The new release Bangistan has failed in entertaining audience on its first day and also getting negative response at box office. This is an advantage for Drishyam to perform in its second week, yesterday audience preferred it more over new released movie.
In its first week, Drishyam has grossed total of 46.28 crores that includes 8.50 crores of Friday (including Thursday), 9.40 crores of Saturday, 12.13 crores of Sunday, 4.05 crore of Monday, 4.50 crores of Tuesday, 4.10 crores of Wednesday and 3.60 crores of Thursday. Now it has entered in the second week and started the week with average figure of 2.75 crores. It is expected to take growth from today being weekend, Saturday & Sunday will be resulted in good for it.