Akshay Devgn starrer thriller movie Drishyam has completed its journey of one month at box office. From last 2 weeks it was just crawling, but the performance it showed in early weeks was commendable. The movie has received overwhelmed response & support from moviegoers because of its gripping story and brilliant performance by star cast.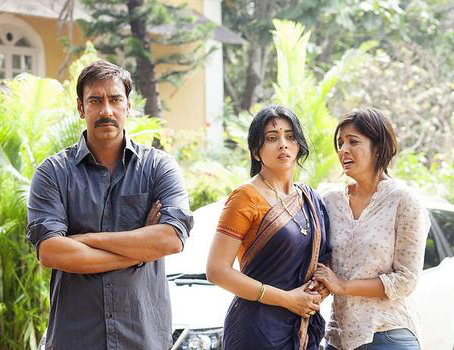 Drishyam is an official remake of Malayalam movie with same title and having almost similar story as that. This may be the reason some critics didn't found it up to the mark but still movie get succeeded in grossing handsome amount at box office. Audience found it very interesting and also appreciated the performance of Ajay Devgn and Tabu in the movie.
In its first week, Drishyam faced loss due to Bajrangi Bhaijaan but still minted good amount of 46.28 crores. Positive environment made by audience in first week, was worked very well in second week too. The movie successfully maintained the hype and collected 17.89 crores as week total. From the third week, movie was started facing more drops in its business due to the release of Brothers and collected only 7.55 crores.
In its fourth week it was done the business of only 3.15 crores that was included 2.10 crores of weekend and approx. 1.05 crore of weekdays. Till the end of 4 weeks, the total collection of Drishyam was recorded as around 74.87 crores.
Now the movie has entered in its fifth week and running on limited number of screens. On its 29th day of release, it was made only 0.20 crore. On next day, being weekend and also the holiday of Raksha Bandhan, it showed negligible growth and minted 0.34 crore as its 30th day collection. Today is its 31st day and Drishyam recorded slight less response than Saturday. It has minted near about 0.30 crore and ended up its 5th weekend with a total of 0.84 crore. At the end of its 5th weekend, the total collection of Drishyam is recorded as 75.71 crores.
| Box Office | Collection (India) |
| --- | --- |
| Day 1 | 8.50 Cr |
| Day 2 | 9.40 Cr |
| Day 3 | 12.13 Cr |
| Day 4 | 4.05 Cr |
| Day 5 | 4.50 Cr |
| Day 6 | 4.10 Cr |
| Day 7 | 3.60 Cr |
| Day 8 | 2.75 Cr |
| Day 9 | 4.05 Cr |
| Day 10 | 5.04 Cr |
| Day 11 | 1.60 Cr |
| Day 12 | 1.65 Cr |
| Day 13 | 1.50 Cr |
| Day 14 | 1.30 Cr |
| Day 15 | 0.85 Cr |
| Day 16 | 1.90 Cr |
| Day 17 | 1.75 Cr |
| Day 18 | 0.81 Cr |
| Day 19 | 0.77 Cr |
| Day 20 | 0.75 Cr |
| Day 21 | 0.72 Cr |
| Day 22 | 0.58 Cr |
| Day 23 | 0.72 Cr |
| Day 24 | 0.80 Cr |
| Day 25 | 0.32 Cr* |
| Day 26 | 0.25 Cr* |
| Day 27 | 0.24 Cr* |
| Day 28 | 0.24 Cr* |
| Day 29 | 0.20 Cr* |
| Day 30 | 0.34 Cr* |
| Day 31 | 0.30 Cr* |
| Day 32- Lifetime | 0.45 Cr* |
| Total | 76.16 Cr |
* Precise Figures