Dum Laga Ke Haisha Sunday Report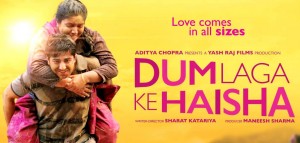 Dum Laga Ke Haisha is newly released Bollywood movie starring both not so popular but known names to Bollywood with Ayushmann Khurrana as the main lead and star powered a bit. Along with low budget Dum Laga Ke Haisha is also a small star cast based movie. Movie released hardly in around 769 screens all over India, before the release, trade experts already predicted it to do low business at box office and but it seems bit different has happened as it though performed decently yesterday and today it remained good.
Movie story is not that unique but due to being love story few couples and youth are watching it somehow resulting in bit better income than first day and second day of course. Audience feels it a light hearted and sweet & simple love story sort of movie suitable to be watched for passing good time. But due to being released on narrower screens performance is not that good as are the reviews for it.
Dum Laga Ke Haisha 3rd Day Business
Talking about the third day box office collection then before the release many trade analysts estimate it to be average or do business on ordinary level and after seeing the third day audience response we can say one thing that this is not going to get so much of success for sure but will end up with positive remarks. Getting reviews of some viewers then they are saying good statements about the film and according to reports around 60% of people shown interest in this movie. Dum Laga Ke Haisha done the business of 2.86 crores on the third day of release and it is better than the first 2 days, with the third day now the total weekend collection of the film is 6.12 crores.
There are already not many expectations from the film hence to think it will do very or give competition to recent hit flicks then it may be waste of time and thought. Overall film as per its production cost may collect the amount soon and tight now leading Ab Tak Chhappan 2.
Friday: 1.12 Cr click here for report
Saturday: 2.14 Cr click here for report