Dum Laga Ke Haisha 28 Days Total Business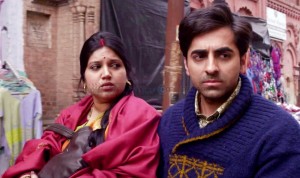 Around a month before released; beautiful & innocent movie Dum Laga Ke Haisha
has proudly completed its 4 weeks at box office. Ayushmann Khurrana & debutante Bhumi Pednekar starrer received huge appreciation from audience. Even after having a normal & simple story line, audience showed thumbs up to the movie, which proved that viewers still loves simple scripts.
Dum Laga Ke Haisha is not a high budget movie released under a biggest banner of Bollywood Yash Raj Films. The direction & screenplay of the movie is very good, this is also the reason which made the simple script to a beautiful love story.
Released on 27 February 2015 and has completed successfully completed its 4 weeks at Box Office. Dum Laga Ke Haisha opened up at Box Office with the figure 1.12 crore but with high positive word of mouth. In its first weekend, the movie has made total 6.12 crores and with such good length steps movie made 10.64 crores total as first week business.
In its second, movie performed better than the expectations and collected total 9.94 crores. In its 3rd week, movie experienced a expected drop in business and made 5.12 crores as 3rd week total. Then in 4th week, the total business done by the movie on around 50% remaining screens is 2.37 crores. So now the total collection of Dum Laga Ke Haisha in four weeks at Box Office has become 28.07 crores.
Dum Laga Ke Haisha (2015)
Genre: Drama
Certificate: U/A
Release Date: 27 February 2014
Director: Sharat Katariya
Producers: Aditya Chopra
Banner: Yash Raj Films
Starcast: Ayushmann Khurrana, Bhumi Pednekar & Sanjay Mishra.
Budget: 15 Crores
Critics Rating: 4/5 stars
Public Response: Positive
Box Office Status: Hit
Business Report (India)
| Box Office | Collection (IND Biz.) |
| --- | --- |
| Day 1 | 1.12 Cr |
| Day 2 | 2.14 Cr |
| Day 3 | 2.86 Cr |
| Day 4 | 1.08 Cr |
| Day 5 | 1.11 Cr |
| Day 6 | 1.09 Cr |
| Day 7 | 1.24 Cr |
| Day 8 | 1.91 Cr |
| Day 9 | 2.35 Cr |
| Day 10 | 2.47 Cr |
| Day 11 | 0.79 Cr |
| Day 12 | 0.80 Cr |
| Day 13 | 0.82 Cr |
| Day 14 | 0.80 Cr |
| Day 15 | 0.62 Cr |
| Day 16 | 1.15 Cr |
| Day 17 | 1.50 Cr |
| Day 18 | 0.48 Cr |
| Day 19 | 0.48 Cr |
| Day 20 | 0.45 Cr |
| Day 21 | 0.44 Cr |
| Day 22 | 0.28 Cr |
| Day 23 | 0.51 Cr |
| Day 24 | 0.72 Cr |
| Day 25 | 0.23 Cr |
| Day 26 | 0.23 Cr |
| Day 27 | 0.22 Cr |
| Day 28 | 0.18 Cr |
| Day 29 | 0.21 Cr |
| Day 30 | 0.42 Cr |
| Day 31 | 0.50 Cr |
| Day 32 - Lifetime | 0.93 Cr* |
| Total | 30.13 Cr* |