Dum Laga Ke Haisha Opening Day Response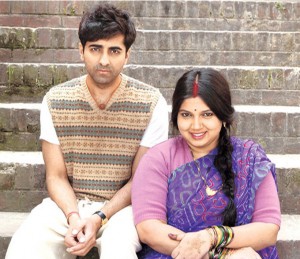 Ayushmann Khurrana and Bhoomi Pednekar starrer
Bollywood
romantic comedy
Dum Laga Ke Haisha
released today on box office. The film was in good buzz due to new looks and different characters of the leads and unique story. It is a fresh and light topic for the audience as there have been many movies depicting the situation after marriage between the couples but this one is totally different and funny.
It released on low numbers of screens (769 only) all around the country. Opening day box office business from this romedy was expected to be not too high but decent as the male star cast is popular and talented and also the story & synchronization between the actors seems interesting. Opening day response of audience has been good but not extraordinary.
First Day Business of Dum Laga Ke Haisha
This can become a good entertainer and business maker on box office as other co releases does not seem so happening on screens except Ab Tak Chhappan 2 and also film is having such script which attracts 22+ age viewers. All the scenes and dialogues in this flick are very fantastic and funny. Audience seems to be enjoying the characters and story of this film even when the topic of the story is so common. Both actors appeared quite perfect in their roles as husband and wife. Today being as first day at box office, Dum Laga Ke Haisha has collected around 1.12 crore.
First day performance of film on box office was normal and bit below average due to less numbers of screens. Most of the audience loved the comedy timing and Ayushman as a confused husband. Husband's frustration and wife's causality were awesome. Let see how this comedy romance does in its later days especially first weekend as now audience expect much from this after opening being good.