Third Day (Sunday) Response of Ek Paheli Leela & Dharam Sankat Mein
Bollywood much hyped and buzzed films Ek Paheli Leela and Dharam Sankat Mein have completed their first weekend journey on box office today. The people had not shown much interest in the movies in comparison to the expected averages. Where Ek Paheli Leela music is the main concern of the movie; script of Dharam Sankat Mein & performance were its strong points. But sadly Dharam Sankat Mein has not performed good throughout the first weekend by getting less occupancy as the Sunday could have brought on positive side, whereas Ek Paheli Leela is getting mixed response from audience but collected good amount in its first 3 days.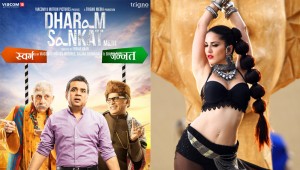 By the end of the third day the Ek Paheli Leela had done business of around 5.35 crores making its first weekend total 15.85 crores. Dharam Sankat Mein was seen on better similar pace than last 2 days and made business of 2.10 crores today and weekend total of 5.15 crores.
Though viewers were impressed by the work of the sunny Leone in the flick still overall occupancy and response for both the films remained almost good throughout the weekend. Earnings of the Ek Paheli Leela & Dharam Sankat Mein on the third day were better than the earlier days.
Sunday which was the main weekend day did not showed much high response from the public towards Dharam Sankat Mein. Thus first weekend business of the film ended up with ordinary numbers.
It was seen response wise that most of audience went to Fast & Furious 7
still as another successful weekend for it & after that the family audience opted for Dharam Sankat Mein whereas the youth and young generation went for Ek Paheli Leela. Might be that IPL is also one of the reasons behind lesser occupancy and response of film in night shows especially.