Ab Tak Chhappan 2 & Dum Laga Ke Haisha Tuesday Response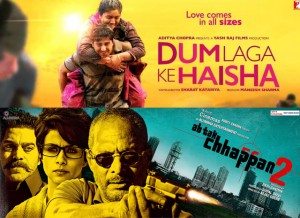 The crime based film named
Ab Tak Chhappan 2
released last Friday which is an out an out an action movie could not find any space among the audience hearts at all. Today is the fifth day of release for this film and it has not attained any decent remark in its favor by the viewers or the critics. First weekend could not pull up any decent figure by the film and the weekdays are showing much average performance now that it seems difficult for the film to survive much longer on box office.
Another film that released was Dum Laga Ke Haisha which has been bit better from the time of release over the other co release. But talking seriously then this one has still got some better reviews and comments from the audience due to its simple and genuine story.
Talking about the box office performance of Dum Laga Ke Haisha on its fifth day which is a weekday, the film has not gained any growth in its occupancy and it has rather fallen more down than the past days. It collected only 1.11 crore on its first Tuesday and remained dull all over the places. Audience has lost their excitement towards this film by today as now weekend has gone and also people have become busy again indicating inactive performance in the weekdays.
It was a disappointing weekend for this one film mainly as it was able to cross very low figures within 5 days of its release on the big screen. Where Dum Laga Ke Haisha still did nice as per its low budget and release screens numbers, Ab Tak Chhappan 2 collected low income on its first Tuesday and stood at mere 0.54 crore*. On the other hand, even Badlapur which is last week release performed significantly better than these two films up to an extent.