Mohit Suri's Bollywood emotional-romantic movie Hamari Adhuri Kahani has been released yesterday on 12th June 2015. The movie starring Emraan Hashmi, Vidya Balan & Rajkumar Rao in lead roles; based on the real story of producer Mahesh Bhatt's parents.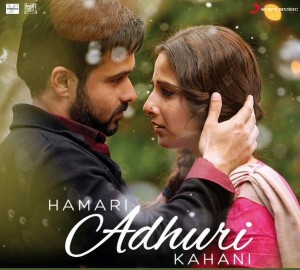 Hamari Adhuri Kahani released this Friday i.e. yesterday among very good excitement of fans but unfortunately getting mixed response from audience. The movie completely failed to impress critics, all the movie critics found it incomplete and excessive melodramatic. Before the release, it was expected to disturb business of other & previous released but critics rated it so down which will definitely result in negative for it.
Some viewers found it very emotional and tearful but mostly reviewed it as disappointing. Audience liked the performance of  star cast but was not looking happy with the script. We can say once again the Emraan & Vidya's movie disappoint audience after Ghanchakkar.
Yesterday was the first day for Hamari Adhuri Kahani at box office and all had so much expectations with it. Because of pre-release buzz, movie started with average occupancy of morning shows and also experienced increment till evening & night shows. As per the early reports, the collection of the movie is also decent & of around 5.04 crores but in terms of reviews, the movie has been declined by the critics as well as audience.
This is really very strange that the movie which is having much hype before its release and also having beautiful music, has  failed to impress viewers. A day before yesterday after the special screening of the movie; all the celebs who were present there, showed thumb up to it. This is also the reason of good occupancy in theaters for the movie, but a drop is expected from Saturday i.e. today. Audience negative comments and low rating of critics will not result in good for the movie, but still there is some hope with the stardom of movie's cast.