Ishqedarriyaan Opening Day Box Office Collection
Apart from many good movies running already in theaters, a comparatively low budget and small star cast movie Ishqedarriyaan released today. After going through troubles regarding its release date shifted, it finally got released in all multiplexes and in some single screen cinema halls across the country today. It was being expected that Ishqedarriyaan will do fair business at box office because of its good music at most & same happened as it collected only 0.35 Crore* on its first day of release.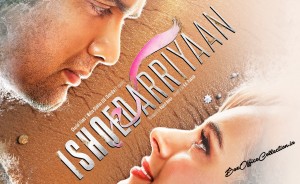 Some previous year movies proved that if movie has something valuable which is worth watching then audience always appreciate it. Unfortunately it hasn't got much of the things in it. It has the romance and the typical drama as well in it. But majority of public isn't expecting a lot from Ishqedarriyaan movie because of no big name in it plus better options.
It is not a big budget movie for sure it is very clear from the movie type and it's promotions, which we saw nowhere, so movie pundits were expecting that Ishqedarriyaan will go low. Though some part of total audience (couples) would like to buy tickets for watching Ishqedarriyaan but majority will go for other movies running in cinemas.
According to the low budget & promotion of the movie it was obvious to expect it not to earn huge amount of money on in its opening day. As per the response that Ishqedarriyaan has got today, first weekend is expected to be dull. Through online review we have found that around just 10% of the people has shown interest in the movie and are expected to view the movie after the first day.
The presence of other good movies currently on screens is coming as big disadvantage for it in attracting the audience which could have come for this one if they dint have better options.