Rang Rasiya First Day Performance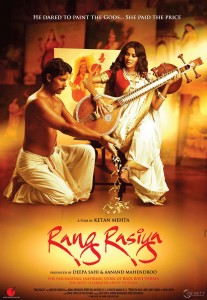 Not much publicized or promoted, the performance based Bollywood film Rang Rasiya has also released today on box office along with the much promoted The Shaukeens. Being not a much hyped movie this weekend, Rang Rasiya is based on the story of an artist and his life. It has been directed by Ketan Mehta and worked by a very talented Randeep Hooda and Nandana Sen in the lead roles.
Talking about the first day business then we can clearly conclude that not much can be expected out of this movie due to low promotions, publicity, star powered star cast or sophisticated name associated with it. Also the lack of any entertaining element in the movie is turning out to be serious obstacle in its way for making business on box office.
Rang Rasiya Friday Collection
We saw on the first day i.e. today that almost 60% of the audiences were snatched out by The Shaukeens and rest by Happy New Year so rush or excitement wise this movie do not stand near the other release. But this fact is also not unknown that collections are not everything. Rang Rasiya was much approached by any audiences for its deep and meaningful acting plus story. All this resulted in overall First Day Collection of film to be 0.63 Crore.
Rang Rasiya is definitely as watchable movie with very good and authentic performances and characters. It is a serious film with nice and traditional approach and capable of getting increased attention from the viewers in the coming days of the weekend.