'Sanam Re' vs Fitoor' Pre-Release Hype at Box Office
This Friday seems to be a platform for romantic movies. Maybe it's the Valentine's Day which is adding so much hype to all the movies releasing this Friday. But the two movies which are running on top of the hypes are Fitoor and Sanam Re. Both the movies have got nice attention of the viewers since their trailers launched.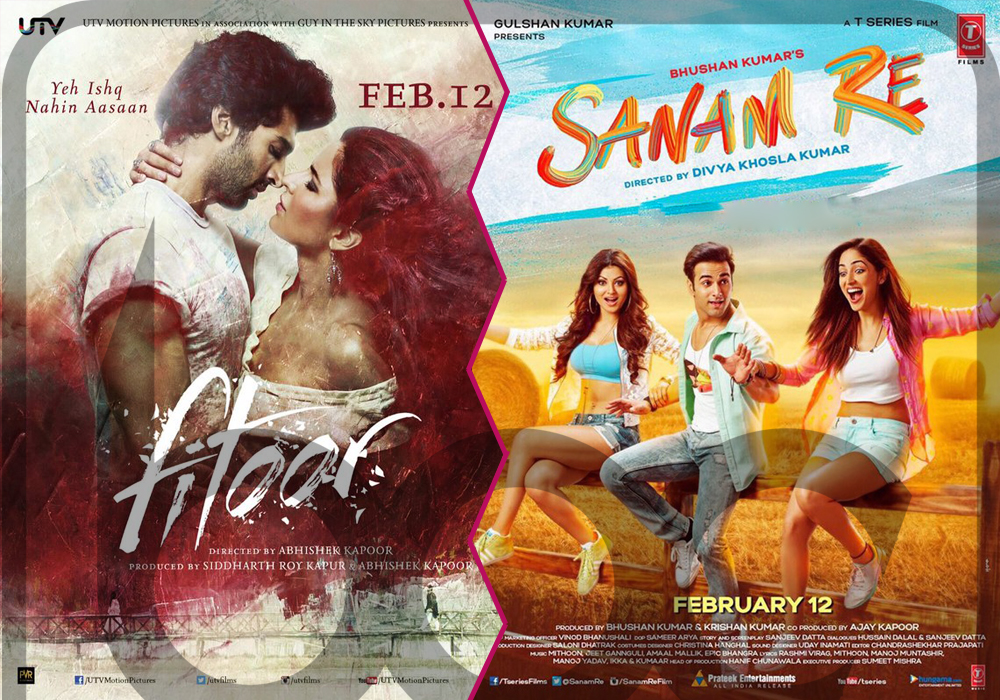 Well, talking about Fitoor first, movie has popular star cast, nice music, romantic story and high buzz along its side. It seems quite appealing and interesting from the trailers. Audience respond well towards the movie with decent approach. Presence of Katrina Kaif in it is in itself a big advantage for not only increase the hypes, but also for better audience response and excitement due to her.
Coming to other movie – Sanam Re, it is also a romantic genre based story. Movie has not too popular but good star cast. What makes Sanam Re to stand opposite Fitoor nicely is its music. Really, music of Sanam Re is so amazing and beautiful. It is out and out romantic and touchy that it connects to audience very easily.
The Katrina Kaif and Aditya Roy Kapoor starrer touching love story Fitoor; and Yami Gautam and Pulkit Samrat starrer Sanam Re, both movies are interesting in their own. It seems as if this Valentine's Day, audience is going to be delighted with fantastic choices on the screens.
Fitoor is leading the hypes owing to fan following of Katrina Kaif. The other co-release Sanam Re is also competing well in the race. In spite of not so star powered back, Sanam Re with Yami Gautam, Pulkit Samrat, and former Miss India Urvashi Rautela has managed to maintain excitement among audience with its appealing trailers and nice music.
Well, let's leave the judgement on audience who always decides fate of every movie. The Abhishek Kapoor's star powered Fitoor Vs Divya Khosla Kumar's Sanam Re, hype is quite high and time is exactly the perfect. Wait for Friday to know which movie got better hand at the box office.