Gabbar Is Back & Piku Box Office Collection
Gabbar Is Back has come out as a huge business maker on big screen within first three weeks of its release. Now that the movie is about to complete its fourth week on box office, it has headed towards slow performance and dull collections due to different factors like competition and audience bit low response later.
By the end of yesterday total 26th day income of movie is around 0.19 Cr* only. Movie received mind blowing occupancy and business not only in India but even worldwide collection of Gabbar Is Back were decent earlier. This busy weekend has resulted in utmost advantage for movie like Piku and Tanu Weds Manu Returns and thus Gabbar Is Back collections were lower.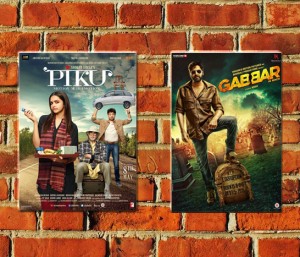 Now that the fourth week about to end and weekend has already passed and hence yesterday being the 19th day has brought only low earnings in account of the movie due to firstly being a weekday time and secondly due to audience busy schedules.
Piku though not made at the near cost at such of Gabbar Is Back but still the movie has got many advantages and plus points in its favor. Audience has appreciated the acting skills of the main leads and the supportive star cast have also done marvelous job. Yesterday movie ended its 19th day income at only 0.85 Cr*.
Firstly the star cast of Piku has also given many hit movies in their past and now they have came up with totally new story and chemistry to attract the audience once again. Movie was released 18 days back and audience seemed to love the movie with great response.
Piku is being regarded as Deepika Padukone's one of the best movies ever and her character plus acting skills in Piku are being appreciated lot enough by the viewers all over the places. It is the one movie on which everyone's eyes are focused even near third weekend.