Gabbar Is Back 9th Day Collection
All in all it is a pretty successful first week for a big movie like Gabbar Is Back to stand on such box office figures after so high expectations and especially hard is to stand up actually on them. As previously said, it now completely depends on how the second weekend goes for the movie to see where the movie ends up finally on the list of Bollywood; film is earning good income these days. Where second Friday was average Saturday came out better in terms of collection with 4.20 crores in hand.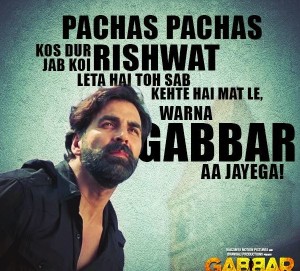 Nowadays competition for listing higher on box office has become very difficult for every film to stay on the top. Still it managed to hold the reputation at the expected level of the audience and its film makers. The film is not a complete blockbuster but still awesome. This time people didn't like the different style of Akshay internationally but in India it is doing well.
Gabbar Is Back 2nd Saturday Performance
Film opened today with increased attitude of the audience and thus it resulted in reputed occupancy of film on Saturday. We could see some rush of audience for watching it even after other options available on screens. This Friday two new movies also releases namely Piku & Kuch Kuch Locha Hai which in turn affected the collection &  occupancy of this action blaster.
Check: Gabbar Is Back 8th Day Collection
Now it would be seen that do they affect Gabbar Is Back business or not in whole weekend? Although, along with it Hollywood film Avengers: Age of Ultron is also running which might also indirectly affecting its collection up to a bit. As there are no other good options except Piku for the Indian audience so it may drive the public towards theaters.