Gabbar Is Back Pre Booking
After Baby which was a huge hit of this year in the beginning now Akshay Kumar's "Gabbar Is Back" will be his second release this year 2015. All the trade experts have suggested that movie will be the one of the biggies of this year and all the time as well. It is being compared with own previous hits like Baby & Holiday which made its own record but now with Gabbar Is Back, the figures are being expected to be again earth shattering.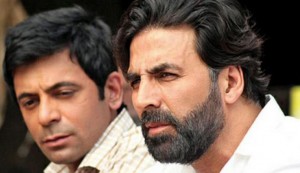 For all the fans and interested person out there, pre-booking has already opened yesterday and the rate is quite good for the movie. After a long promotion period and buzz in the social media, movie is getting good response from the audience in form of advance bookings that started from 29 April 2015. We have already seen that the pre release response for Gabbar Is Back was hilarious and audience had booked their tickets in advance. Same happened today as expected. Booking counters opened with high demands and response.
Gabbar Is Back Expected Occupancy
It seemed today as if there was something like fair or festival outside the booking counters for advance ticketing for multiplexes after looking at the audience rush outside the places. First day of Gabbar Is Back is expected to get too favorable viewers response if we say on the basis of pre booking. Bookings have been reported quite well in mostly the metro cities and mass regions like Pune, Mumbai, Bangalore, Delhi NCR and other regions with at most 70-75% occupancy expected on first day and weekend.
People are booking their tickets with craze and all the Akshay fans are paying their love for him in form of high pre bookings of tickets. Seeing all the craze and trend about the movie, occupancy report of movie is decent in most of the places throughout India. Only the south Indian region may account less as two biggies are releasing there in south same day.