Box Office Performance Comparison of Gabbar Is Back with Baby & Holiday
Akshay Kumar starrer latest movie Gabbar Is Back which is on everyone's lips these days. Movie being the latest action cum romantic movie starring Akshay Kumar and Shruti Hassan in lead roles has taken out audience attention once again. The film is being compared with his past action filled highly buzzed and hit films i.e. Holiday and Baby. Yes all these three are way similar in many ways which tends the experts to compare them with each other.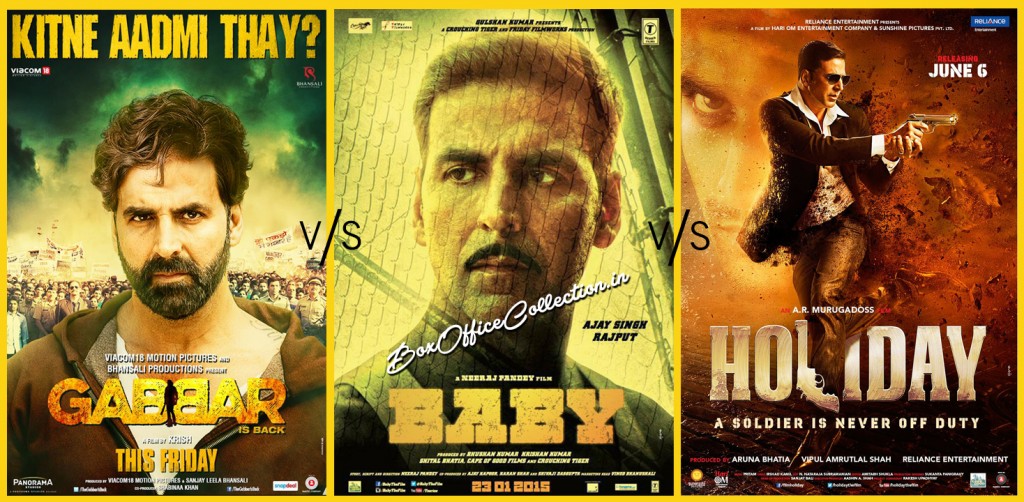 All three movies are superb dose of action and it is the main highlight and to be honest all are unique in their own ways. We saw that Holiday last year got record breaking response on box office within its first day, first weekend, first week and so on; then Baby this year made again near similar record breaking performance. There are expectations of similar response from the viewers & critics towards Gabbar Is Back too though it is really hard to collect that fame and collection but being still an Akshay's action film, it can do anything.
Gabbar Is Back Total Expected Collection Vs Baby & Holiday
Comparing these three movies, then we find that the total income of Holiday was highest 112.45 Cr whereas that of Baby was also very high i.e. 95.56 Cr both in India only hence it will be quite difficult for Gabbar Is Back to same or even near income on big screen with a new script. Total collection of this new film is being predicted to be around 90 crores atleast where that of previous ones were higher.
It can be said that Gabbar Is Back though is a latest film with new things but still Holiday & Baby have gained one of top positions which is very tough for this one to break. Anyway it is just predictions and opinions as there are still many days to come for release and it can gain more response which may affect the collection of film positively only then it can be finally judged that which in is bigger grosser – Gabbar Is Back, Baby or Holiday?