Gang of Ghosts First Day Collection
It is a horror comedy film which has lots of comedy gestures in it. First day performance of GOG seems decent and public seems to like this ghost comedy. It opened with 10-20% occupancy in theatres on Friday which is good for a movie like this with no big star cast and moreover competition is also tough as the other movie releasing along it is Ragini mms 2 which has a strong buzz around it. Whether young or old, married or single this movie should provide the entertainment and lots of laughter to the audience. First Day Box Office Collection of Gang of Ghosts is expected to stand around 1-2 Crores. Let see how well this flick does in its later weekend.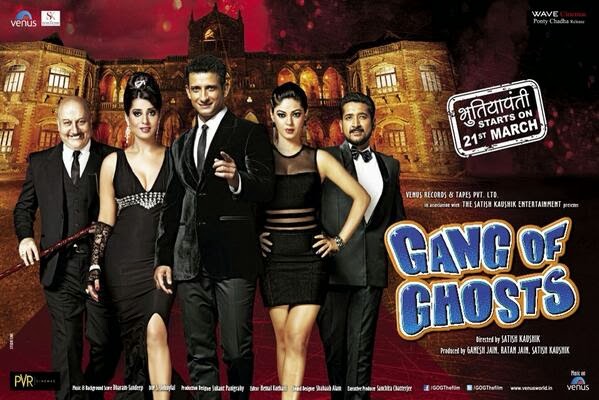 Gang of Ghosts Movie Details
Latest Bollywood movie Gang of Ghosts has been released today on the big screens as per the scheduled date. It is a total fun and comedy flick based no the story of some ghosts who are very humorous and entertaining. It is a very widely star casted flick with lots of Bollywood personalities in it. With such a huge star cast this flick got mind blowing response from the public before the release. It has released along with one another Bollywood movie Ragini MMS 2. So it is quite competitive week for Gangs of Ghosts to mark its individual position on box office and among audience hearts.
Star Cast
Sharman Joshi
Parambrata Chatterjee
Mahi Gill
Anupam Kher
J. Brandon Hill
Meera Chopra
Rajesh Khattar
Rajpal Yadav
Saurabh Shukla
Yashpal Sharma
Chunky Pandey
Vijay Verma
Jackie Shroff
Story
Story of this flick has been written by Rajesh Chawla and Satish Kaushik and is totally based on some ghosts that reside in a place. It is remake of Bengali movie Bhooter Bhabishyat. very big house which is said to be a hunted with ghosts from different era and call this house their home. When the house has to be broken down to build a shopping mall all the ghosts from different era come together to save this hunted house that they call home.
Trailers
Its trailer and first look poster were released recently in February launched on YouTube and had more than 2 million views within five days. It shows that even though Gangs of Ghosts is not so high budget movie as compared to the other releases but viewers are still expecting good out of this flick and are interested in watching it.