Happy Ending 2nd Day Response & Performance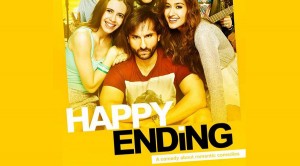 After the super hit movie Race 2, Saif Ali Khan is back again with a new genre and character. His latest film Happy Ending is up on the theatres nowadays as the film got released yesterday on 21 November 2014. The film is basically a comedy cum romantic movie and features many popular names in it in the lead roles. Apart from the star cast which justified their roles decently, the main highlighting point of the movie the double role of Saif; showed perfect acting skills and added up lot of comedy cum drama to the story. All of them together have entertained the audience decently.
People did not showed big interest in watching it and the overall occupancy of Happy Ending on Saturday was recorded normal as like the opening day. Metropolitan cities and major parts contributed average contribution in the overall 2nd day income for Happy Ending. Film has made a good impact on everyone on the second day.
Happy Ending Saturday Day Collection
Targeting all type of audience whether kids, youth, mature or families; Happy Ending movie has been not much loved by all the viewers on the whole. The film has been appreciated by many viewers and they found it enjoyable. Saturday showed bit growth in the occupancy as well as the income and the total 2nd day collection of Happy Ending is around 4.25 Crores. Those who liked the film claimed special mentions for the performance of Saif and Govinda; both for their fully fledged humor oriented roles.
Happy Ending Friday Business- 3.75 Cr
In two days Happy Ending has received ordinary public response and it is expected to increase by tomorrow owing to the main holiday – Sunday. Very obviously more viewers will go along with their siblings and families tomorrow for having a quality time together with such a good film.