Happy Ending Tuesday Response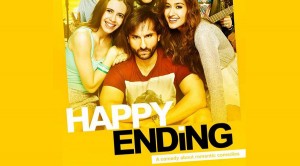 Released last Friday,
Happy Ending
has done good business in the first weekend. This movie is expecting to earn its manufacturing price in the first week. In this movie actors starring in the lead roles are Saif Ali khan, Govinda and Ileana D'Cruz, who all have been seen first time together. Audience liked the refreshing performance and different music after watching this movie.
Though on the whole, it is doing only average business till now owing to low public response for it especially after the weekend time. The film has been depicted on a nominal basis of career life. Tuesday opened with ordinary reaction form most of the viewers and here was no rush outside the cinema halls for watching it.
Happy Ending 5th Day Business
Happy Ending has good music and has already become one of the hit songs of Bollywood but the story of this movie does not seem to be so good or say much connective. Some of the audience did not like this movie too much. On the other hand Kill Dil has entertained the audience bit in the second week too. It got normal occupancy of the audience today and Tuesday being a proper weekday resulted in low income of around 1.5 Crore*.
Film did better business than Kill Dil or The Shaukeens but audience says it's better to have more options than Happy Ending if compared according to the early expectations and the results. The response of movie Happy Ending is not so good from the audience. In spite of big names present in the lead roles, still the film has not been able to record any commendable figures by now.