Happy New Year Box Office Report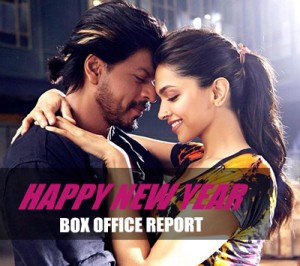 After breaking so many records and fulfilling the expectations of the audience and the film makers,
Happy New Year
 has finally come to the point of getting bit off from the cinema halls and theatres. As next week, many new films will be getting released so this flick has very few days to make it all over business as much as it can. This one of the most awaited and publicized films of Shahrukh Khan was released near Diwali occasion.
The film was being waited with great hypes and already created a great buzz in the media regarding its competition to the previous blockbuster Bollywood films. How so ever, the film after getting released revealed its true reality much nicer. Where the film was firstly being judged to become a great business maker later on it showed that the film a solid Bollywood blockbuster & not just a hit.
HNY 18th Day Business
Happy New Year has crossed 350+ Crores mark worldwide in its third week so it is clear that the movie is a superb biggie of this year. But this is also true that Dhoom 3 is still to lead it. The film in its third week showed a mixture of reactions from the audience. In the starting days it made fantastic business but fell down gradually in the later weeks. On the contradictory note, HNY has showed a decent rise in its third weekend in comparison to other latest films and coming up to bring a satisfactory business figures for the film makers. It closed at 1.01 Crore* on its 18th day of release.
Now when the film is on its edges of third week, it seems that public is showing favor for their superstar. Film is making decent collections on box office than others.