Hawaizaada 2nd Day Box Office Response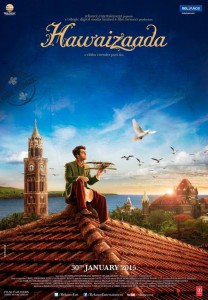 After an average opening and audience response on its first day of release, the latest venture of Bollywood
newly established actor Ayushmann Khurrana has not shown any perpetual performance on even day two. Film is the latest drama cum inspiring movie that hit the theatres day before yesterday. Star cast of the film is good and familiar comprising Ayushmann as the Hawaizaada with lots of dream and ambitions. The story of the movie is about a character who wants to become the number one in the old times of India.
Still the good story has not been liked by the viewers much. Pre release response of audience for Hawaizaada was decent but the actual reaction after watching the movie is not up to the mark. It collected very low figures on first day and even yesterday on day 2, it emerged out just as an ordinary release with ordinary collections on box office.
Hawaizaada Saturday Collection
Critics analysis and reviews about the movie was good and positive and they expected it to entertain audience well enough but the box office figures are not showing the propagated extent of performance and day Saturday closed down at just 0.65 Crore. Still the film has got family entertainer factor in it, and we know very well that it attracts more viewers.
The day has resulted in normal profit in spite of Hawaizaada promos that created a huge buzz among all. Film has become just an ordinary release on the basis of first two days business and performance. Here are many days to come and we need to see how much film manages to collect in its first weekend and week.
Check: Hawaizaada Friday Business Report