Hey Bro Movie Review by Critics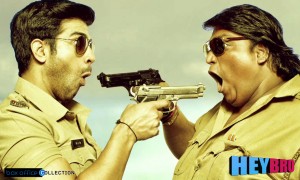 After giving dance training as a choreographer in many films and acting in ABCD recently, the hit Ganesh Acharya is now on the screens with something that he is perfect with –DANCE. Yes, he is coming with his latest movie named
Hey Bro
which is a sole comedy cum action drama. He is playing the main lead role in the film and there are other star casts also present in the film along with Govinda too.
The film has been reviewed by critics and experts, they have said that it is a very interesting and entertaining movie as its name suggests, it quite justify its title by its giggling and fully fledged comedy genre story. Film is a good option for a nice pastime and also one of the best thing about the picture is that it is audience friendly so any kind of audience may watch this movie whether young generation, kids or family audience.
Hey Bro Expected Opening Report
Story is good, funny and decent, there are many comedy sequences in the film on and on that are very wonderful. Most of the critics have given decent reviews for this movie. As per the critic's reviews and analysis and audience attitude towards it, we find that film will be a low earner but still decent with low budget and is going to entertain the audience with humoristic comedy and punches. Total first day expected collection of film is around 35-45 Lacs* at most as it hasn't got anything too attractive in it and also most of the audience will be busy in celebrating Holi festival.
What the movie has in store for you, wait and watch this space for more updates. Now what we need to do is just wait and watch the film when finally it gets released and judge whether it has really justified its title or not. Expectations are not being made nay high from the film due to lack of any star powered lead, masala story or such factor.