Holiday Movie Critics Review
Akshay Kumar and Sonakshi Sinha starrer latest movie Holiday– A Soldier is never off duty is going to release tomorrow. 2014 has seen a lot of good releases, some quality cinema and smashing performances by our Bollywood celebrities, Holiday movie is also being expected to join the same list. From the trailer point of view, it may seem like a stereotypical Khiladi Kumar flick with non suitable songs, some stunts and actions with fighting sequences and a handful of Rajpal Yadav comedy character thrown in somewhere. But thankfully, none of it is really true in this case. Critics have given quite nice and favorable reviews to holiday due to its strong story and script. Much of the critics have given full marks to A.R. Murugadoss for doing a superlative job as the director of the film. His last film 'Ghajini' was brilliant too, and 'Holiday' takes it up several notches higher. A remake of the South Indian film 'Thupakki', 'Holiday' is undoubtedly one of his best works in Bollywood till date. This film is crisp, engaging and racy. Never does the film lag in pace or substance. A lot of Bollywood films have been made on terrorism previously, most of which sank without a trace. But with 'Holiday', Murugadoss takes a completely different approach.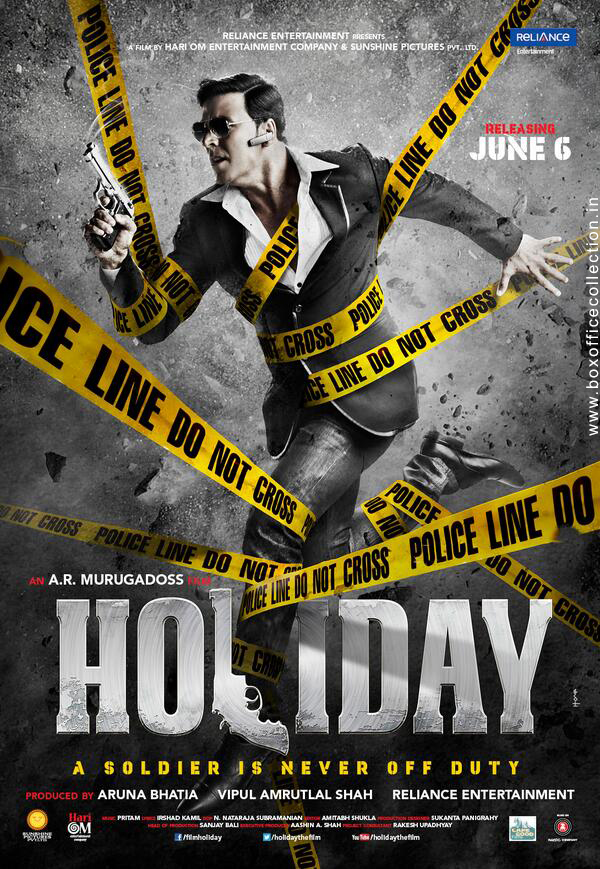 Holiday Movie Expected First Day Collection
Talking of performances, Akshay Kumar delivers one of the best performances of his career. He's as convincing as the serious army man; it's difficult to imagine anyone else in the role. On the other hand the female lead Sonakshi Sinha adds much needed masala in the film. Looking over all these facts, box office prediction regarding Holiday movie seems quite happening ad good.  Holiday' is one film that will be liked by both the masses and the classes equally. It is sheer brilliance hence more audience resulting in more collections. As on the whole Holiday is a good pack of entertainment and fulfils all the conditions of a good film, therefore we can expect its opening day collection to be outstanding and touch near 10-11 Crores on the opening day and lifetime of the film will definitely go beyond 50-60 Crores if public accepts it same way as the critics have done.