Hunterrr Expected Performance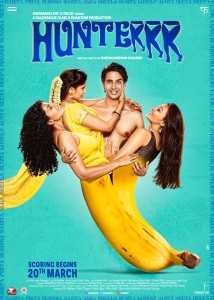 Once again directors are in an attempt of presenting the
Bollywood
and to show the something different to the audience. Latest adult comedy adventure
Hunterrr
is going to release on this Friday on 20 March 2015. All the actors in lead are playing their lead debut. Music of this movie is given by India's one of the most popular Altaf raja and is getting good attention.
Film is no expected to do very impressive but as we can see our young audience likes adult comedy and similar topics these days hence there is scope for the film to get good hand on screens. This movie is on the talk of the town nowadays due to its genre. Movie has been averagely reviewed as a good and entertaining movie by the critics of Bollywood. There is an excitement and wait among the youth audience for film. Film is expected to gross decent performance and appreciation from the young generation at most.
The movie is about sexual addiction and adult comedy tangled within fun and laughter so does not appear to be much cheap or too bold hence can find some good audience. Flick on the whole is a unique package which will be a treat for the youngsters. People are judging movie by its box office earning and at one end it's a pretty fair way to look at it and is expected to cover an income of around 15-20 crores* in its lifetime.
Genre is quite attractive for young ones hence this is also the reason why this film is becoming so popular in the youth and getting superior attention but for other viewers it is not an option. The songs and music tracks of Hunterrr are popular till now on YouTube and Television as well. As we all know that songs are very important for a movie to get good review and in the case of this one these are helping to increase the expectations for sure.