If you are not aware, we would like to inform you that along with Baahubali, there is one more movie released this week at box office. Yes, we are talking about Sunny Deol & Kangana Ranaut starrer much delayed movie I Love NY (New Year). This movie was initially scheduled to be released in December 2013, then in 2014 but finally it has released in 2015 without much hype among audience.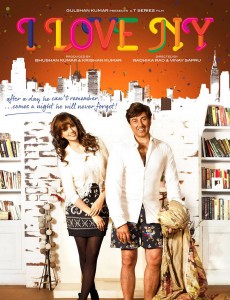 I Love NY is directed by Radhika Rao & Vinay Sapru and produced by Bhushan Kumar & Krishan Kumar under the banner of Super Cassettes Industries Ltd. It has released this Friday with biggest one Baahubali, no doubt its a clear suicide. The movie was started with almost none occupancy on Friday and some how managed to collect 50 lacs to its account. Few audience showed dare to watch it for the sake of Kangana Ranaut but the reviews came out were not in favor.
Still fans are supporting the movie, on Saturday the movie has started with almost similar response as previous day. The second collection of the movie is recorded as around 52 lacs in India. Today is its third day at box office and being Sunday it is expected to result in little bit better than last two days. As per the prediction report, the movie is expected to collect 55 lacs* atmost as its third day collection.