Kappal Opening Day Performance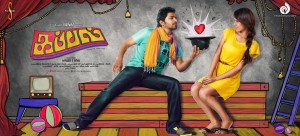 We have seen the
Tamil
film industry rising high in recent few months with many successful releases and the audience expectations have risen again with the release of
Kappal
to beat this record. The latest movie Kappal which is one of the most awaited Tamil films has entered the box office today on 26 December 2014. Released on such a special event after Christmas, the film did a fantastic performance on its opening day.
Directed by Karthik G Krish, film is basically a fully fledges comedy movie along with romantic story in between. Story of the film is so interesting and entertaining that it connects with everyone very finely. There are other important characters also present in the film like Vaibhav, Sonam Bajwa, Karunakaran, VTV Ganesh and Arjunan along with others.
Kappal 1st Day Box Office Collection
First day performance of Kappal is well and the film opened with good public response in the dominated regions. It maintained the audience expectations and finally made a decent start by collecting around 3.5 Crores* as its first day income. The figures are well enough and have fulfilled the critics & audience hopes up to a limit. One reason of the good performance of Kappal is that this comedy entertainer is based on very funny script which has made audience laugh a lot.
Its music is composed by Natarajan Sankaran and produced by I Studios Entertainment; i.e. the film has all the known names handling specific areas of music, production etc. Kappal is a good budget film made with a cost of nearly 20 Crores. Being a good budget film with a good star power film has released on high number of screens and expected to collect decent income in the coming days of the weekend.