Khamoshiyan Sunday Response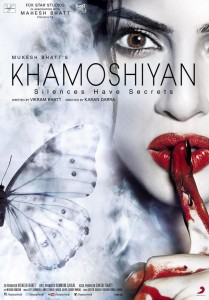 The film known for much hypes and expectations named
Khamoshiyan
has now entered its main weekend day today on the big screens. It is the latest suspense thriller movie based on the story of a girl and her unique love life with two guys and grey shadowed past. Film opened with average remarks from the viewers and managed to get a satisfactory income within first two days of release but Sunday has remained bit better for the film in spite of heavy competition right now.
Though it released along with the other competitor Hawaizaada that ran average throughout the weekend, still it has overcome in the first weekend as per the reports. Occupancy and overall figures received today were quite same as compared to the first two days. The thriller & youth factor has resulted in some help for the film in attracting the teen audience.
Khamoshiyan 3rd Day Box Office Collection
Today being the third day of release, film got good advantage of Sunday being a main weekend day but not to satisfactory level. More audience went to cinema halls and multiplexes for watching the film as compared to past 2 days as it was holiday. Overall Sunday performance of film is normal and third day income of Khamoshiyan is around 2.54 Crores making its 1st weekend business to be 6.67 Crores.
Movie is doing just average on big screen and by the end of Sunday it collected some relevant figures in its account. By the start of weekdays from tomorrow this film along with other will surely go down consistently till next weekend arrives and bring it some help.
Khamoshiyan Day Wise Collection
Friday- 1.92 Cr click here
Saturday- 2.21 Cr click here
Sunday- 2.54 Cr
Total- 6.67 Cr