Kick 8th Day Worldwide Performance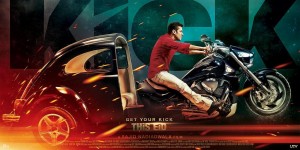 Kick has done a very fantastic performance in India but the overseas business report is good only. The film has not been able to get the desired or expected level of reaction from the public outside India but still the figures are satisfactory and positive. Due to 5000 + screen domestic gross of the movie is also higher than others. According to us the biggest mistake which producer make in this film is its online promotion. Producer of the film not focus on the online advertisement due to this film response is less in youth. Also it leaded to lack of connection of audience outside India to know about Kick and get attached with it to higher extent. Anyhow the total performance of Kick in overseas is 42.85 Cr and now that the film is facing its 8th day of release on international screens, the performance of the film is decent enough to make it a good success and also due to weekend time now.
Kick 2nd Friday Overseas Collection
Today more people showed interest in watching Kick as compared to past weekdays. The overall occupancy of the overseas screens was good and the day was in average favor of Kick by giving a total 8th Day Overseas Income of around 2.8 Crores. The main reason behind less income of Kick even after the weekend time is the Hollywood attest biggie – Hercules that is running quite well all over the international screens. So it has proved to be a big obstacle in the way of Kick outside Indian Territory. How so ever still Kick has got its own audience especially the Salman Khan's fans which are in great number internationally. It is being expected that Kick might do good business in this weekend and earn positive response of the viewers in India as well as the international countries.
Kick 8th Day Collection in India- Read Report